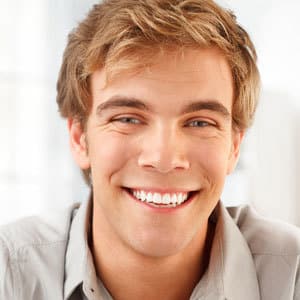 Gently Reshape Your Teeth For A Lovely Smile
Patients often visit The Dental Centre of Conroe believing that their chipped or oddly shaped tooth, spaces between teeth, or slightly crooked tooth will require extensive treatment. Fortunately, if you have a tooth, or teeth, that require gentle reshaping, Dr. Richards may recommend bonding or contouring. We look forward to discussing your cosmetic goals with you and starting you on the road towards your best smile.
About Dental Bonding
Dental bonding is a cosmetic treatment that improves the appearance of your smile through an additive process. Dr. Richards will speak with you about your concerns, which may include missing tooth tissue, concentrated stains, or spaces. Bonding relies on the use of composite – the same material used for tooth-colored fillings. This material is composed of synthetic resin that we can color-match to your surrounding tooth, for a seamless finish.
About Dental Contouring
Dental contouring is a cosmetic procedure that gently reshapes your teeth. By removing a minimal portion of your tooth's outermost layer, called enamel, Dr. Richards may improve the appearance of your teeth in a variety of ways. Some patients may experience a tooth that gently overlaps another, which Dr. Richards can address by removing tissue. Or, you may have a single long or jagged tooth. Contouring relies on the use of a polishing tool to carefully reshape your tooth.
The Benefits of Bonding And Contouring
Bonding and contouring can dramatically improve the appearance of your smile efficiently and effectively. If your teeth display minor imperfections, these cosmetic treatments may offer the cost-effective solution you desire. Some of the benefits of bonding and contouring include:
Bonding
Repairs tooth chips
Covers stains
Fills gaps between teeth for a more uniform appearance
Requires minimal prep work
Is completely comfortable
The material will match your surrounding tooth
Contouring
Improves uneven tooth surfaces
Improves poor tooth texture
Improves the appearance of a mildly crooked tooth
Contouring is completely comfortable
Requires minimal prep work
Reshapes an awkwardly shaped tooth
What To Expect From Bonding and Contouring
Bonding and contouring offer fast, effective options for improving your smile. If you require dental bonding, Dr. Richards will carefully sculpt the area of missing tooth tissue, or paint the composite over your tooth. He will set the material with a special light to complete the procedure. If you require contouring, Dr. Richards will carefully and conservatively polish away tooth tissue for a more refined appearance.
Should You Consider Bonding and Contouring?
If your smile could use a cosmetic touchup but doesn't require extensive treatment, then ask Dr. Richards if you should consider bonding and contouring. To schedule a consultation, call the Dental Centre of Conroe today at (936) 441-4600. Located in Conroe, TX, we also proudly serve the residents of Houston, The Woodlands, Willis, Montgomery, Magnolia, Huntsville, and all the surrounding communities.