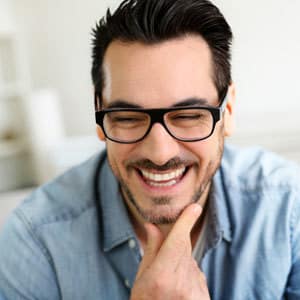 Protect Your Overall Oral Health
You may feel nervous when you hear the term "root canal", but Dr. Richards understands that done properly, root canals are a safe and very comfortable procedure. First and foremost, root canal therapy provides immense relief and health benefits to our patients. In fact, most individuals report that root canal therapy is about as uncomfortable as a simple filling. In addition, Dr. Richards offers sedation dentistry options upon request.
Why Do I Need Root Canal Therapy?
Your "root canals" include the hollow chambers that comprise the lowermost portion of your teeth. Within these canals exists pulp full of blood, vessels, and nerves, making up the life-center of your tooth. Sometimes, your root canals become infected. This often occurs as the result of a neglected cavity, which become large and allow bacteria to invade your tooth.
Root canal therapy will remove the infection and restore your tooth to good health. Dr. Richards will suggest this therapy because an infected tooth poses a serious threat to your tooth's health and your overall oral health. A neglected infection may abscess. In addition, the infection may spread to healthy neighboring teeth and tissues, resulting in widespread disease.
The Benefits of Root Canal Therapy
The many benefits of root canal therapy include:
Root canal therapy removes the source of discomfort
This treatment immediately removes infection, protecting your tooth and entire mouth
Root canal therapy will often save your tooth, so you can avoid an extraction and the need for tooth replacement
We will complete your therapy with a beautiful custom-made, one-visit crown, so your tooth looks as wonderful as it feels
What To Expect From Root Canal Therapy?
Dr. Richards will numb your tooth and the surrounding tissues, to ensure a comfortable procedure. He may offer sedation options if you feel extremely anxious about the procedure. Once the anesthetic works, he will create a hole in your tooth, removing existing decay and infected pulp. Dr. Richards will then fill the clean, bacteria-free opening with a composite filling. To fully restore your tooth, we will permanently place a custom-crafted CEREC crown.
Do I Need Root Canal Therapy?
To find out if you need root canal therapy, or to receive a second opinion, schedule a visit by calling the Dental Centre of Conroe today at (936) 441-4600. Located in Conroe, TX, we also proudly serve the residents of Houston, The Woodlands, Willis, Montgomery, Magnolia, Huntsville, and all the surrounding communities.