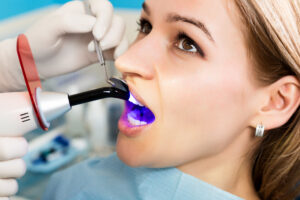 Dental bonding can repair teeth in one visit, reshaping them and masking multiple cosmetic issues at once! People are often surprised to see what this treatment can do in only one visit. In today's blog, your Conroe, TX, dentist talks about the benefits of dental bonding.
The Dental Bonding Procedure
How does the dental bonding procedure work? Well, we start by offering a local anesthetic to keep you comfortable as we remove any decay and cleans the tooth. We then gently etch the outer structure before we apply the material. This material is composite resin, the same we use for our tooth-colored dental fillings. The material is metal-free and safe for patients of all ages. We shade this to blend with your tooth and offer a natural appearance. Once we apply the composite resin in several layers, we begin shaping the tooth as we cure the material under a light. The last step is to polish the tooth thoroughly for a brighter appearance. In one visit, we can offer dramatic cosmetic improvement!
The Cosmetic Potential
The procedure can be used to repair cracked or chipped teeth, or to add length to structure worn down by bruxism. Our team can also correct misshapen teeth and even mask permanent teeth stains, the kind that may not respond to traditional teeth whitening measures. The procedure can also close embarrassing gaps between your teeth too! For many, this tackles multiple cosmetic issues at once, so you leave with a major smile beauty boost in one appointment.
What About Dental Contouring?
Along with dental bonding, our team can also offer contouring. With this option, we again offer dramatic improvement for common esthetic imperfections in only one visit. Instead of adding new materials to the tooth, we gently sand and buff away small portions of outer structure. Contouring can correct the appearance of chipped teeth, smooth out grooves, pits, and rough patches in the outer surfaces, and even dull sharp, pointed, or jagged portions of tooth structure, all in one appointment. For a smile makeover, we could combine bonding and contouring with treatments like teeth whitening and even porcelain veneers.
If you have any questions about our approach to cosmetic dentistry, or if you would like to schedule a consultation to see if these treatments are right for your smile, then contact our team today to learn more. We want to help you and your family feel proud to smile!
Your Conroe, TX, Dentist Offers Treatment Options
Now is a great time to repair and correct the imperfections in your smile with cosmetic dentistry! For more information on our cosmetic treatments and more, then contact The Dental Centre of Conroe in Conroe, TX by calling 936-441-4600 today.