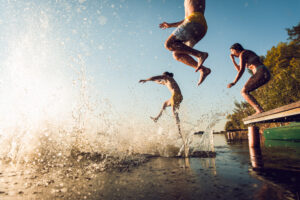 If you're looking for something fun to do this weekend, we have a few ideas! In today's blog, your Conroe, TX, dentist is looking at several fun activities happening this weekend, with something fun for everyone. In addition, we hope you will visit our team for a checkup and cleaning soon, so you can attend events like this with your best smile!
Party Barge Swim Cruise
You and your family can set sail on Margaritaville Lake Resort's Party Barge Swim Cruises, which take place on Lake Conroe at 600 Margaritaville Parkway. Admission is $60 per person, with one child under 18 per family receiving a complimentary ticket. The cruises happen every Thursday, Friday, and Saturdays through August 12th from 11am until 1pm. You can bring your own alcoholic beverages, and complimentary snacks and soft drinks will be provided. The boat will visit one to two fun swimming locations. You must make reservations! Find out more right here.
Payton Riley Live
You can catch a live performance from Payton Riley at The Table at Madeley today at 7:30pm to 9pm. Admission is $12 to $15 dollars, and the restaurant is located at 316 Madeley Street. Find more details here.
Untamed Thoughts B-Day Bash
Untamed Thoughts will be hosting their own birthday celebration at The Table at Madeley this Saturday from 6pm until 10pm. The venue is located at 316 Madeley Street and tickets are $20. You can see Jason Allen, Chris Crisp, and a special surprise guest! Learn more here.
Main Street Market
Don't miss the Mainstreet Market, which takes place this Saturday from 10am until 2om at the corner of Metcalf and Main Street in downtown Conroe. Each week local farmers and artisans will bring their goods and creations for sale, so you can support locals and find something truly unique! This will happen rain or shine, so you should definitely stop by!
Taco Pop-Up
Do you love a good taco? The don't miss out on this awesome Taco Pop-Up presented by Fass Brewery on 236 North Main Street. The pop-up shop will be here every two weeks on Saturday, and this week you can visit! Some of the best food you'll find in Conroe.
If you have any questions about fun events, or about scheduling a visit for your family to see our team, then contact our office today to learn more! We want to help you and your family enjoy optimal oral health and a smile that truly shines.
Your Conroe, TX, Dentist Offers Smile Care for the Whole Family
If you haven't seen the dentist lately, then now is a great time to make an appointment with our team! For more information on protecting the health and beauty of your family's smiles, then contact The Dental Centre of Conroe in Conroe, TX by calling 936-441-4600 today.