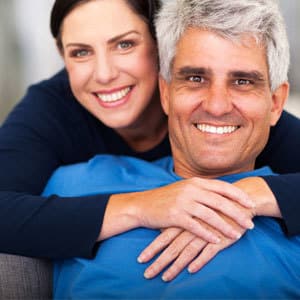 Extend The Life Of Your Natural Teeth
If you suffer a broken tooth or even advanced tooth decay, you don't need to despair. Dental crowns provide patients with an efficient, natural-looking solution to tooth restoration. In addition, at The Dental Centre of Conroe, we utilize advanced dental technology to ensure you receive a beautiful, custom-fitted crown. Please contact us if your tooth suffers physical damage so Dr. Richards may determine whether a dental crown is best for you. Or, for unexpected breaks and damage, contact us immediately to take advantage of our emergency dental care.
What Is A Dental Crown?
A dental crown is a tooth replacement, often referred to as a "prosthetic tooth." You may hear others referring to crowns as "caps" because of their hollow shape. Crafted out of ceramic, your crown will look just like your natural tooth. We will color-match the material to blend with your surrounding smile. Dr. Richards will place the dental crown over your existing tooth. You may require a dental crown if:
You undergo root canal therapy and require a crown to fully restore your tooth's structure, while protecting your natural tooth from future infection
Your tooth becomes broken as the result of a strong impact but is healthy enough to avoid an extraction
Your tooth develops as large cavity – a filling alone will leave your remaining natural tooth tissue too vulnerable to breakage
Your tooth suffers extreme cosmetic and structural damage, which we can camouflage and protect with a beautiful dental crown
You decide on dental implants as a tooth replacement solution, which we will complete with a dental crown
The Benefits of Dental Crowns
At The Dental Centre of Conroe, we believe in providing patients comfortable, efficient visits and treatments. We offer one-visit crowns, made possible by CEREC (Chairside Economical Restoration of Esthetic Ceramics) advanced technology. Through a streamlined process, we will take virtual impression of your teeth and fit you with your custom-crafted dental crown all in one day. The benefits of CEREC crowns include:
Traditional crowns often require wearing a temporary crown, and up to two weeks of wait time for the permanent crown
You will only need to visit our office once for your crown
We can quickly restore your tooth after root canal therapy, making the treatment efficient rather than time consuming
CEREC one-day crowns offer beautiful, natural-looking restorations
What To Expect From Dental Crowns
When you visit our office for a dental crown, we will take digital impressions of your top and bottom teeth with our CEREC CAD/CAM technology. This means you will not need to experience the messy putty associated with conventional impressions. Based on your digital impressions, the CEREC will color-match your tooth. Next, the CEREC machine will mill a solid block of porcelain into your crown. We will permanently fit your crown, making any essential adjustments to ensure a comfortable bite.
Is a Dental Crown Right for You?
Find out if a dental crown is right for you, and if you qualify for a CEREC one-visit dental crown! To schedule a consultation, call the Dental Centre of Conroe today at (936) 441-4600. Located in Conroe, TX, we also proudly serve the residents of Houston, The Woodlands, Willis, Montgomery, Magnolia, Huntsville, and all the surrounding communities.