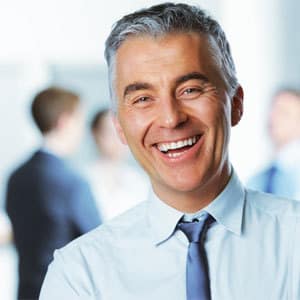 Fully Restore Your Smile For Long-Term Benefits
Improving and restoring your smile by replacing missing teeth will improve your confidence and your quality of life. From speaking articulately to eating the variety of foods you love, the benefits of teeth replacement are powerful. Whether you are missing one tooth, two or more teeth in a row, teeth spread across your arch, most of your teeth, or even all of your teeth, dental implants offer an incredible solution. Unlike other dental prosthetics, implants replace your entire tooth, including the roots. With unsurpassed stability and longevity, implants provide the most lifelike replacement option.
About Dental Implants
Dental implants offer teeth replacement that most closely replicates your original natural teeth. To better understand how a dental implant works, look at the following:
Dental Implants: A dental implant is a titanium post that Dr. Richards will surgically place within your jawbone. The term "dental implant" refers only to the post, not to the entire tooth replacement. The post replaces your tooth's roots. After traditional dental implant placement, you will undergo a healing process that may last several months. During this time, the post will fuse to your bone in a process called osseointegration.
Restorations: The "restoration" is the portion of this tooth replacement solution that replaces your missing tooth. This may include a single dental crown in the case of a single tooth replacement. Restorations may also include an implant-retained partial, implant-retained dentures, or implant-retained bridge. With implant-retained dentures, you may choose from removable dentures that "snap on" to your dental implant posts, or dentures that Dr. Richards will screw into place.
Same Day Implants: Using advanced technology for immediate screening and quick placement, we can often place and restore implants within a single visit. Speak with Dr. Richards about this option to determine your candidacy.
The Benefits Of Dental Implants
Dental implants offer a surprisingly vast array of benefits. While you may note that implants typically cost more than other teeth replacement options, their extraordinary longevity and advantages make them a cost-effective option. Whether you are considering a single implant or two full arches, we encourage you to take a serious look at the following ways in which dental implants may improve and benefit your smile and oral health:
Implants can replace missing teeth in any configuration
Dental implants offer full replacement after tooth loss, preventing your teeth from shifting into the open space, which can result in a crooked smile
Your jaw remains healthy and strong as a result of a stimulus-response reaction that occurs when your roots alert your jaw that your teeth require support – dental implant posts replace your tooth's roots and encourage continued jaw health
Having fused with your jawbone, dental implants provide the most stable tooth replacement available
Replacing your teeth will allow you to enjoy a beautiful smile and comfortable speaking and eating
Will I Make A Good Candidate For Dental Implants?
Dr. Richards will need to thoroughly examine your oral cavity and jawbone to determine your candidacy for dental implants. Because implants require a strong, healthy jawbone, we will use advanced imaging, such as 3D scanning and imaging, to take a closer look at your jaw health. If we find you in good oral health and you desire a tooth replacement, Dr. Richards will assist you choosing the dental implant best suited to your needs. However, if your jawbone has deteriorated, Dr. Richards will begin with bone grafting. This process includes replacing lost bone tissue so your jawbone is ready to support implants.
To find out if you make a good candidate for dental implants, schedule a consultation with Dr. Richards by calling the Dental Centre of Conroe today at (936) 441-4600. Located in Conroe, TX, we also proudly serve the residents of Houston, The Woodlands, Willis, Montgomery, Magnolia, Huntsville, and all the surrounding communities.