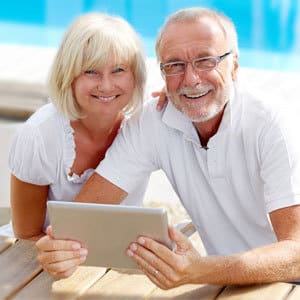 Replace Missing Teeth For A Beautiful, Functional Smile
Missing one or more teeth can quickly cause you to feel too embarrassed by your smile to enjoy sharing it with the world around you. Regardless of your age, dentures may offer you a cost-effective solution to restoring the appearance and function of your smile. While you may think you know all there is to know about this type of removable prosthetic, the options and extensive benefits may surprise you.
About Dentures
Dentures come in a variety of options. A denture is a prosthetic that you can easily place in and remove from your mouth. We will create a custom-fitted denture that includes pink acrylic gums and natural-looking teeth that complement your facial features. Two common types of dentures include:
Full Dentures: This type of denture replaces a full top or bottom arch of missing teeth. Dentures rely on the natural suction of your gums to remain in place throughout the day. You may create additional stability with the use of denture adhesives.
Implant Dentures: Implant dentures look like traditional dentures, and replace a full set of missing teeth. Also referred to as "implant-retained dentures," these prosthetics fit snugly over implant posts surgically placed within your jawbone. You may still remove your implant dentures at will.
The Benefits of Dentures
Dentures offer a long list of benefits for individuals missing most or all of their teeth. Whether you choose traditional dentures or implant dentures, replacing your teeth may have a dramatically positive impact on your confidence. Advantages of dentures include:
You will enjoy a complete, beautiful smile
You will eat comfortably, enjoying a wide variety of foods for improved enjoyment and nutrition
You will be able to speak clearly and articulately
Dentures offer a non-invasive option to replacing an entire arch of missing teeth
You can remove your dentures for easy daily care
Implant-retained dentures offer added stability for long-term denture wear
What To Expect From Dentures
Dr. Richards will first thoroughly examine your oral cavity and discuss your options for replacing lost teeth. He will explain alternative restorative dentistry options if you do not require full arch replacements. In addition, he will determine whether you require extractions to prepare for your dentures. In the case of implant dentures, Dr. Richards will determine whether your jawbone is healthy enough to support dental implants. If not, he may recommend bone grafting to ensure you can achieve the implant-retained prosthetic you desire. For both traditional and implant dentures, we will take impressions of your top and bottom teeth. We will send the impressions to a dental lab where a skilled technician will create your customized dentures for a wonderful fit and beautiful appearance.
Do You Qualify for Dentures?
If you've lost all or a significant amount of your teeth, then you may qualify for lifelike full or partial denture. To learn more, schedule a consultation with Dr. Richards by calling the Dental Centre of Conroe today at (936) 441-4600. Located in Conroe, TX, we also proudly serve the residents of Houston, The Woodlands, Willis, Montgomery, Magnolia, Huntsville, and all the surrounding communities.