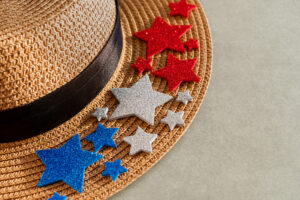 Have you made any big plans for the weekend? This weekend is Independence Day weekend, and there is plenty to see and do in our community. In today's blog, your Conroe, TX, dentist talks about three fun events that are great for the whole family. We would also like to remind you and your family that we can help you attend events like these with brighter and healthier smiles!
Stars and Stripes Celebration
The 4th of July is only days away, and you can celebrate in Conroe! The Stars and Stripes Celebration takes place on Saturday, July 1st from 6pm until 9:30pm, with the fireworks show starting at 9:15pm. The celebration is being held on 500 Collins Street. There will be tons of food trucks, vendors with products from local artisans and more, and also tons of kid activities so the whole family can have fun! There will be love music too. You can find out more details by following this link.
Party Barge
If you want to cool off and enjoy the weekend with the whole family, you can sign for the Party Barge Swim Cruises on Lake Conroe. Hosted by Margaritaville Lake Restore, on 600 Margaritaville Parkway. These cruises take place on Thursday, Friday, and Saturday each weekend from now through August 12th. You can take part from 11am until 1pm. Admission is $60 per person, with one complimentary child for every paying adult. The cruise will take you to one to two different swimming locations on the Lake. You can enjoy a dip in the lake, or take in the views. There are complimentary snacks and soft drinks on board, and you can bring your own alcoholic beverages. There are life jackets and you need to reserve your spot. Find out more by checking out this link.
Margaritaville Market
Ready to buy some awesome local products created by members of our community? Then check out the Margaritaville Market, presented by the Margaritaville Lake Resort at 600 Margaritaville Parkway. The next one takes place on Saturday, July 1st from 2pm until 4pm. This is open to the public and no tickets or reservations are required, so stop by the Palm Court to see what's happening! You can find out more with this link.
Your Conroe, TX, Dentist Offers Dental Care for the Whole Family
Our team is ready to help your entire family obtain better oral health and brighter smiles. For more information on our approach to family dentistry, then contact The Dental Centre of Conroe in Conroe, TX by calling 936-441-4600 today. We want to help ensure each member of your family can smile with confidence and enjoy optimal oral health for years to come!