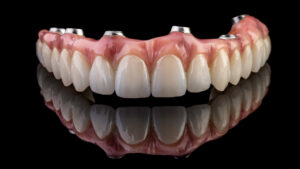 Whether you are aware of it or not, your smile is one of your most important assets. Not only is it important for performing routine tasks such as biting or chewing, but it is also an excellent way to learn about you. For example, a bright and jubilant grin may be perceived as you having heightened levels of happiness and confidence, whereas shying away from revealing your teeth may be perceived as closed-off. Though regular prevention can help maintain your smile, tooth loss can occur as a result of various other factors, and oftentimes at a faster rate than you expect. In today's blog, your Conroe, TX dentist explores the major functional improvements that arise from dentures.
Functional Complications of Tooth Loss
From a young age you were likely taught about the importance of maintaining consistent smile care. While this may have begun as simply brushing your teeth, it gradually developed into a thorough routine that cares for each component of your oral cavity. Indeed, your smile is more than just your teeth, but your gums, tongue, and other oral tissues and structures.
While tooth loss as a child may be a goal in order to get a little money from the tooth fairy, tooth loss as an adult has quite the opposite effect. You see, your adult teeth are considered permanent, meaning if one were to become compromised due to infection or dislodged, it would not grow back,
Not only is tooth loss a noticeable phenomenon in that you will sport a series of noticeable gaps, but it can lead to functional complications as well. For example, without a tooth, your structures must readjust in order to properly support bite pressure. For more information about this process, reach out to our team today.
Replacing Missing Structures
While it is possible to continue throughout life without a full set of teeth, it is best for your health and functional capabilities to have them replaced. Indeed, dental implants are a popular option that our team recommends, as they aim to provide reinforcement in absorbing your bite's pressure by mimicking the relationship shared between a post and your jaw tissue.
Another major benefit of implant technology is that it can be used to address your needs precisely. For instance, we can help place implant-retained dentures so as to help you get the most from your grin.
Treatment to Meet Your Needs
Sometimes the nature of tooth loss can be rapid and unpredictable. Because of this, it pays to know your restorative or prosthetic options, including implant bridges and dentures. These options not only consider your health, but your functional capabilities as well.
Schedule Your Appointment
Contact The Dental Centre of Conroe in Conroe, TX by calling 936-441-4600 to schedule your next appointment with our team and learn more about the benefits of implant dentures.