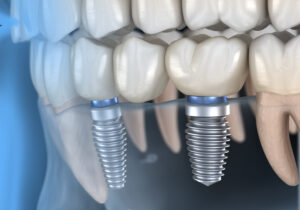 Caring for your smile is something that may come as second nature to you. Whether you attend your checkups consistently or brush thoroughly at least twice a day, you are practicing routine dental prevention. Indeed, preventive care is the name of the game when it comes to keeping your smile healthy and happy, however, even it is no match for major injuries, infections, and more. In today's blog, your Conroe, TX dentist discusses the importance of replacing lost or missing teeth with lifelike prosthetics, as well as how our team can help address your needs with specific solutions.
Addressing the Loss of a Single Tooth
When it comes down to it, it is safe to say that nobody wants to experience the loss of a permanent tooth. After all, there are several steps that we can take in order to prevent most major concerns, so why would we have to face this issue, to begin with? The truth of the matter is that many preventive routines could benefit from an upgrade, and prevention is no match for some issues like physical injuries.
Indeed, it is important to recognize that tooth loss can occur as an adult, and the longer you wait to have the issues treated, the worse your situation will become. Fortunately, advances in dental technology and the use of dental implants can be of significant help.
Dental implants consist of biocompatible titanium posts that are strategically inserted into the jawbone and allow for a restorative crown to properly absorb your bite's pressure once more. To learn more about solutions for replacing a single tooth, give our team a call today.
Bridging a Span of Several Teeth
While implants are effective for the loss of a tooth, can they address significant tooth loss as well? Fortunately, yes! You see, dental implants can be used in conjunction with prosthetics to create a custom option for your situation. For example, a person missing several teeth in a row may best benefit from an implant-retained bridge.
Implant bridges consist of a set of two or more artificial crowns that are bonded together to span a specified distance. The bridge contains an implant on both ends of the restoration, which then click into place in the respective area of the mouth. Contact our team to learn more.
Total-Smile Prosthetics
In addition to implant-retained bridges, our team can help you address total tooth loss with the help of dentures. Implant dentures offer a more secure attachment and a reduction in risk of faltering. This allows you to enjoy a complete smile once more while still being able to achieve ideal functional capabilities.
Learn More Today
Contact The Dental Centre of Conroe in Conroe, TX by calling 936-441-4600 to schedule your next appointment with our team and learn more about the many benefits of implant-retained dental prosthetics.