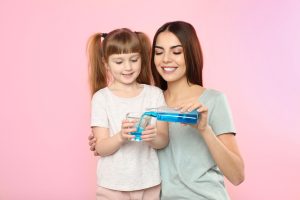 Tooth decay and infection are among the most common oral health concerns out there, and nothing is more frustrating than developing a cavity despite consistent at-home care. Indeed, there are more concerns than can be counted on two hands that threaten your smile's integrity, and as such, it is important to practice care both in-office and at home. The same can be said for children's smiles, as they need just as much care, if not more. In today's blog, your Conroe, TX dentist explains why early preventive care provides better protection for tiny grins, and how brushing, flossing, and mouthwash all play a role in the process.
A Unique Take on Little Grins
Because our smiles are constantly under the scrutiny of a variety of concerns, consistent care is necessary. While some individuals may contain a unique set of needs or a condition that requires customized care, a general rule of thumb is to practice a well-rounded preventive routine so that all of your oral structures are treated and accounted for.
Your dentist often recommends a combination of brushing your structures twice daily, flossing after meals, receiving dental education about the impact certain substances and food items have on your structures and attending routine checkups and cleanings. But how does this translate over to caring for children's teeth? Fortunately, the answer is quite well. Give our team a call today to learn more about the process and how we can help.
Brushing, Flossing, and Mouthwash for Tiny Smiles
Even though children go through the process of losing their younger teeth and developing permanent adult ones, oral health still matters tremendously. As a matter of fact, the sooner you begin at-home care, the better your children's smiles will be protected.
You see, brushing is necessary to remove the bacteria-laden plaque that develops as the day goes on, and flossing is important for removing stuck food particles and preventing bacteria from causing gum complications. Because your child is still learning about proper prevention, mouthwash plays an important role too, as it helps reach the areas that may have not received enough care. Contact our team today to learn more about this process.
How You Can Help
The truth of the matter is, children tend to replicate their parents' behavior. This means your little one is more likely to become excited about his or her oral health if they see that you are excited about yours. Taking care to encourage your little ones about smile health and proper prevention will pave the way for a stronger, healthier, lifelong grin.
Schedule Your Appointment
Contact The Dental Centre of Conroe in Conroe, TX by calling 936-441-4600 to learn more about children's dentistry and proper care, or schedule your next family appointment with our team today.