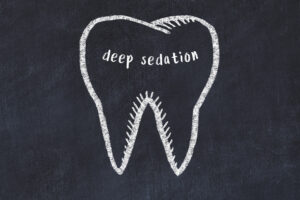 When you have dental anxiety, this could mean undergoing even minor procedures is a difficult process. We understand and want to take measures to ensure your visit is a comfortable one. In today's blog, your Conroe, TX, dentist will talk about our sedation options, and how they make minor and more extensive treatments a comfortable experience.
When You Need a Calming Agent
If you're undergoing a more extensive treatment, such as dental implant placement, then we may suggest this to help facilitate a comfortable treatment experience. But we also offer this for our patients with dental anxiety. We understand that some fears can be severe, and even make undergoing a routine cleaning a difficult process. But when possible, we can use this to help ensure the experience is a comfortable one, so you don't have to fear going to the dentist, and you can finally obtain the smile you deserve. Before recommending one of our sedation options, we will look at a number of different factors, such as age, weight, medical and dental history, and anxiety levels. A trained anesthesiologist will also be on hand to monitor you and anesthesia levels as needed throughout the process.
Oral Sedation
With this option, a pill is given before the visit and takes effect before treatment begins. You may need to avoid food and drink for the eight hours before treatment. You will enter a deep state of relaxation, and the effects may take time to wear off. We suggest having a friend or family member on hand to bring you home afterward. Common examples of what we prescribed include Ativan, Valium, Versed, and Halcion. This option is especially helpful if you have a fear of needles.
IV Sedation
The deepest form of relaxation possible is administered through an IV. You will be monitored carefully throughout the process, and we will recommend again avoiding food and drink in the hours before the procedure begins. You will be conscious but will have little to no memory of the procedure afterward. Again, the effects will take time to wear off, so you should arrange for someone to be on hand to bring you home afterward.
If you have any questions about our calming options, then contact our team today to learn more. We want to help you obtain the treatment necessary to enjoy a healthy and comfortable smile, with an enjoyable office experience too. Talk to our team now to schedule your first checkup and cleaning visit of 2023.
Do You Need to Schedule a Visit?
To learn more about calming agents and help for our anxious patients, then contact The Dental Centre of Conroe in Conroe, TX by calling 936-441-4600 today. We're ready to help you obtain the care necessary to smile with confidence.