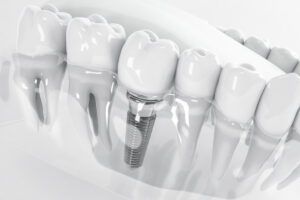 Our most recent dental blog took a look at instances in which a dental extraction may be necessary in order to prioritize your oral health, as well as what you could expect from the process. Indeed, severe infection and damage may cause your tooth to become compromised, making it beyond reparable. Although your health may be in better standing following an extraction, it is important to understand the need for seeking replacement teeth. In today's blog, your Conroe, TX dentist examines the way dental implants can address functional and structural concerns, as well as what you can expect from placement.
Addressing Functional Complications
While nobody's first choice is to lose a permanent tooth, sometimes it is necessary to have a compromised structure extracted when it means your oral health will be taken care of. Indeed, there are several factors out there that have a negative influence over your smile's health, and unfortunately, there are not nearly as many natural defenses to provide protection.
Preventive dental care is designed to help provide protection against bacteria-related concerns, as well as strengthen your natural defenses already in place. While consistent and thorough preventive practices can place your smile at a more-protected level, keep in mind that it is still no match for major injury-based issues and other concerns. When issues of this nature occur, your best bet is to handle it by seeking restorative treatment.
Even still, waiting too long to seek treatment or allowing a major infection to spread significantly can lead to the need for an extraction. Moreover, a missing tooth causes functional and structural complications without care, so it is best to seek a replacement option. To learn more about this process and how our team can help, give our office a call today.
Providing Structural Support
In addition to addressing issues that arise in oral function, a dental implant can provide structural support for your bite's pressure by stimulating the jaw bone. You see, an implant is comprised of a biocompatible titanium post that is inserted into the bone, and an artificial tooth crown that is secured to the post.
The post itself functions in a manner similar to that of natural tooth roots. This not only anchors the tooth to the jaw but stimulates the jaw and keeps it strong enough to support the implant. Contact our team to learn more:
Cosmetically Completing Your Smile
Finally, and put most simply, your dental implants can help cosmetically complete your smile and enhance its full appearance. Sporting a complete smile is a goal many people aim to maintain throughout adulthood, and implants are created to provide highly realistic results.
Learn More Today
Contact The Dental Centre of Conroe in Conroe, TX by calling 936-441-4600 to learn more about the functional, structural, and cosmetic benefits of a dental implant, and schedule your next appointment with our office today.