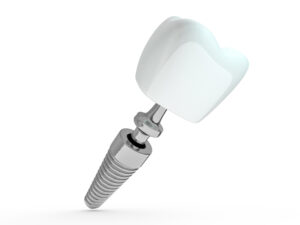 When it comes down to it, the last thing a person wants to experience is the loss of one or more permanent teeth in their life. Indeed, your teeth may be among the strongest bones in the human body, but that does not mean they are indestructible either. With this in mind, the best thing you can do for your smile is take great care of it and fend off the many bacteria-related issues that attempt to wreak havoc over the years. In today's blog, your Conroe, TX dentist discusses how tooth loss can affect individuals in a few different ways, as well as how your smile could benefit from dental implant posts.
Providing Structural Support
It goes without saying that preventive dentistry is the name of the game when it comes to caring for your smile's health. After all, there are several factors out there that negatively influence your oral health, and unfortunately, there are not nearly as many natural defenses. With this in mind, your grin could use all of the help it can get.
Among the various issues that could threaten your smile's integrity, tooth decay and bacterial infection are among the most common. These issues can be difficult to determine early on in the process, and it does not take long for them to completely take over and compromise an entire tooth.
If your tooth becomes compromised or extremely damaged, your dentist might recommend a dental extraction in order to prevent even more damage from occurring. Keep in mind, however, that other complications are likely to arise with a missing tooth. For more information about this process and what our team can do to help, give us a call today.
Replacing Your Crown and Root System
Following the loss of one or more teeth, your dentist might recommend seeking a replacement through implant dentistry. Dental implants help do more than just address tooth loss: they replace the entire crown and root system of a tooth to aid in structural support, too.
An implant post aims to function in a way similar to your teeth roots by anchoring the artificial crown to the jawbone. This allows your crown to absorb an appropriate amount of bite pressure. Contact our team to learn more.
Aiding in Functional Tasks
In addition to replacing your crown and root system, a dental implant can help restore your bite function to aid in other functional tasks. For example, the crown and root system of a dental implant post can help your artificial crown perform tasks such as biting, chewing, and eating without fear of faltering.
Learn More Today
Contact The Dental Centre of Conroe in Conroe, TX by calling 936-441-4600 to learn more about your dental implant options and schedule your next appointment with a member of our team today.