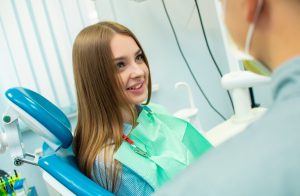 When you come in for your dental appointment, it can be for a variety of purposes. Maybe you are in need of a dental checkup, or maybe you are in search of a more specific treatment such as addressing a bruxism concern. Either way, in-office visits offer significant versatility and assistance in addressing many of your dental concerns. For some, however, the thought of coming into the office and receiving treatment of any kind can be enough to trigger feelings of anxiety or fear, and in some cases, result in total appointment avoidance. In today's blog, your Conroe, TX Dentist takes a look at the very real phenomenon of dental anxiety and discusses ways our office might be able to help with dental sedation.
Why Visits Matter
Dentistry covers a wide range of treatments and procedures involving all aspects of your oral cavity. This means that your checkup serves more of a purpose than just searching for cavities, including examining the teeth, gums, cheeks, lips, throat, the roof of the mouth, and floor of the mouth.
A proper preventive dental routine consists of a number of actions. This includes brushing and flossing at home, taking the time to understand the negative effects that certain foods and beverages may have on your teeth, and attending checkups to ensure proper development. What's more, your dentist is able to address your needs more precisely and accurately than you or a family member attempting to check, which means in-office appointments are imperative.
When Anxiety Prevents Your Visit
It goes without saying that checkups play an important role in your overall oral health, however, a very real phenomenon known as dental anxiety or fear tends to throw a wrench in the mix. In other words, several people every year are impacted by the unwanted stress that checkups bring, and thus tend to cancel or not attend them.
Unfortunately, this does play a major role in your preventive routine, and oftentimes individuals do not seek assistance until it is too late. This is where our team comes in to help, however, through the use of dental sedation.
A Calmer Environment
Sedation dentistry allows our team to help you feel at ease and receive some peace of mind when you come into our office. We can administer a mild sedative to help relax the nervous system and make your visit much calmer. What's more, you can choose from a couple of different options such as IV sedation or an oral pill, depending on your treatment.
Schedule Your Next Visit
Anxiety brought on by appointment stress can make receiving your treatment much more of a chore than it needs to be. Contact The Dental Centre of Conroe in Conroe, TX by calling 936-441-4600 to learn more about your sedation options or schedule your appointment with our team today.