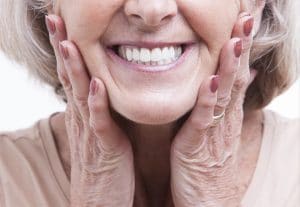 When you lose your teeth, which happens to many people as they age, it can be a source of discomfort and embarrassment. At the Dental Centre of Conroe, we don't want you to feel embarrassed about your smile, so we offer a great solution to restore your smile to its full glory. In today's blog, your Conroe, TX, dentist will discuss the two types of dentures that we offer in our office, as well as the benefits of restoring your smile in this way.
Types Offered In Our Office
At the Dental Centre of Conroe, we offer two main styles of dentures:
Traditional full, removable dentures, which are made to custom fit your mouth, complete with pink acrylic gums and teeth that look natural and go well with your natural facial features. This option is the most common one, and your prosthetic is very easy to deal with in terms of using it and cleaning it, making it very popular with many people who have lost their teeth.
Implant dentures, for which implant posts are surgically inserted into your jawbone to remain there permanently and act like roots for the new teeth that will be placed on top. Your new teeth will snap into place over the implant posts for a snug fit, and you will still be able to remove them when you want to.
Benefits of Traditional Full Dentures
Benefits of the traditional prosthetic include:
A more comfortable eating experience: You will have a full set of teeth, meaning you won't need to worry about making sure that the foods you eat are all soft or pureed like you might without them. Because the prosthetic will fit snugly in your mouth due to it being custom designed for you, it should feel comfortable when you eat, similar to your natural teeth!
Easy cleaning: Because your new teeth are removable, they can be easily cleaned outside of your mouth. This is helpful for being able to clean all bits of food that could have stuck on or between your new teeth, making them a hygienic option for those willing to take a few extra moments to care for their new teeth.
A beautiful smile: Your smile will be fully restored with lifelike new teeth, which will make you feel more confident.
Easy articulation: You will regain the ability to articulate your words easily.
Benefits of Implant Dentures
Benefits of implants include all of the above listed reasons as well as:
The implant posts being embedded into your jaw will stabilize your new teeth to a greater extent than the traditional prosthetic, allowing you to wear them for longer periods of time.
The posts also keep your jaw healthy, as having "tooth roots" tells your brain to send important nutrients to your jaw.
Restore Your Smile at the Dental Centre of Conroe
If you are missing teeth and are wondering about your options, or if you are due for a cleaning and checkup, contact the Dental Centre of Conroe to schedule a visit by calling (936) 441-4600. We serve patients from Conroe, TX, and the neighboring communities.