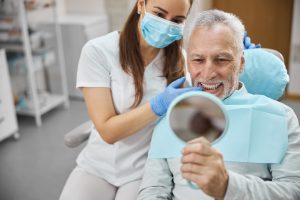 When it comes to your teeth and your smile, oral health is the top priority. In fact, there are a variety of concerns out there that can cause a significant number of threats to not you're your appearance, but your oral structure and function as well. In some circumstances, extraction is needed in order to preserve your overall health, rendering it the only viable option. Still, functional complications can arise if the lost structure is not efficiently replaced. In today's blog, your Conroe, TX dentist takes a look at the many ways dental implant restorations can aid your grin, as well as why they are needed in the first place.
The Need for Extraction
It goes without saying that one of the biggest threats to anyone's oral health includes the negative effects of dental decay. In its earliest stages, decay begins as a small hole in a tooth known as a cavity. Without proper treatment or care, that hole will continue to get bigger and bigger until the infection begins to spread internally.
At this stage, you will begin to experience functional complications such as sensitivity, sharp pains, and pain. Even still, if decay continues much past this point, your chances of losing a tooth will become more and more likely.
In cases such as the previous example, your dentist may recommend a dental extraction in order to remove a diseased structure and prevent surrounding teeth from becoming infected as well. While this step certainly is a move forward in the direction of better oral health, bear in mind that functional complications may arise as well, including difficulty biting, chewing, eating, and enunciating. It is at this point that we would recommend a dental implant.
Addressing One Tooth or Several
A dental implant and restoration actually serve more purposes than just making your grin appear complete once more. In fact, your procedure will consist of placing a biocompatible post securely into the jaw bone to mimic the relationship shared between the jaw and a tooth root. This step is crucial, as it is that exact relationship that permits your crown to properly absorb the pressure of your bite without falter.
We will also finish your treatment with a custom crown restoration that closely mimics the shape, texture, and even hue of your smile, thus resulting in a lifelike finish. For more information about this process, contact our team today.
Functional Benefits
It is one thing to complete your grin's appearance, but it is entirely different to tackle function. Without a post to act as an artificial root or anchor, your jaw bone will not be stimulated and thus result in deterioration.
Schedule Your Appointment
For more information about this process or to schedule your appointment with our team, contact The Dental Centre of Conroe in Conroe, TX by calling 936-441-4600 today.