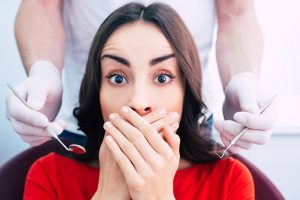 It goes without saying that your health is of the utmost priority, and your oral health is no exception to this rule. Indeed, due to the number of bacteria, infections, and other concerns out there, it is important to take an active and involved position in your preventive dental care, but sometimes anxiety or fear of attending dental visits can complicate this process. In today's blog, your Conroe, TX dentist explains what it means to have a dental phobia, as well as what our team can do to help ensure your visit is as calm and relaxing as possible.
What Is a Phobia?
You may recall that as a child, your first time doing a number of things might have seemed quite daunting. For example, the first time you rode a bike without training wheels, the first time you went to school and were apart from your parents, and even the first time you got a haircut may have all seemed troubling at the time.
The primary difference between hesitation and a phobia, however, is the severity of the situation. Indeed, dental phobia consists of extreme fear of going to the dentist, and as such, even causes patients to skip and avoid necessary preventive visits altogether. So, what can be done about this phenomenon?
Though it may not seem important immediately, your routine checkup and cleaning are actually critical parts of your overall preventive care routine. This is because they provide care that cannot be addressed at home, including a thorough examination of structures and the ability to address minor issues before they turn into major complications. To learn more about this process, reach out to our team today.
How It Impacts Your Health
Though missing one checkup may not result in significant immediate complications, doing so consistently can actually lead to major concerns down the line. For example, without professional care, you will begin to experience significant tooth decay, major infections, and even tooth loss.
Indeed, your smile can become quickly compromised without effective care, but crippling phobia can make it nearly impossible to seek treatment. So, how do we move forward? Our answer is dental sedation. Reach out to our team to schedule your next appointment.
Ways We Can Help
To help ensure your visit is as calm and relaxing as possible, we can utilize dental sedation. Indeed, sedation dentistry consists of administering a sedative – either through gas inhalation, orally, or intravenously – that helps relax your central nervous system and achieve a state of pure calm and relaxation. Make sure to ask our team about your options the next time you visit.
Schedule a Visit
Contact The Dental Centre of Conroe in Conroe, TX by calling 936-441-4600 to learn more about the benefits of dental sedation and what your options may be, and schedule your next visit today.