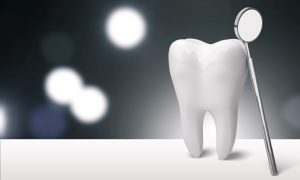 Dental crowns are often referred to as caps because they literally "cap" teeth in order to restore them. Custom-designed to mimic the size, shape, and appearance of any tooth, a dental crown can often be the most beneficial way to restore a tooth's health and integrity after it experiences extensive damage or decay to its structure. At our Conroe, TX, dental office, we offer highly customized dental crowns to fit your tooth's unique needs, and to ensure that you enjoy a healthy, beautiful smile longer.
When your tooth has extensive damage
The problem with tooth damage is that it never gets better on its own. A fractured or broken tooth will only get better if you treat it with a customized restoration. A dental crown, for example, can completely cover and protect the tooth to stop the fracture or broken section of your tooth from getting worse. It will also restore your ability to bite and chew properly and comfortably by taking the bite pressure off of your tooth. Restoring the tooth with a crown can therefore help you save the tooth before the damage becomes severe enough to warrant tooth extraction.
When there's severe cosmetic blemishing
Today's dental crowns are often crafted from highly lifelike materials such as dental porcelain, giving them a realistic appearance that makes them almost indistinguishable from healthy, natural teeth. Because of their esthetic appeal, porcelain crowns can often be utilized to improve a tooth's cosmetic appearance quickly and conveniently. Once in place, the crown can correct one or several types of concerns, including severe tooth discoloration, malformation, wear, chips, cracks, and more.
When a tooth receives root canal treatment
Sometimes, a dental crown is an optimal way to complete another treatment while ensuring your tooth's long-term health and integrity. For example, following root canal treatment, a tooth may be structurally weaker than before it became infected. This is because the procedure involves removing infected tissues and tooth structure from within the tooth, including its pulp and root canal. After the infection is removed, we can recommend capping the tooth to protect it from the pressures of biting and chewing in the future.
Find out if you need a dental crown
A dental crown can be ideal for a number of different concerns, and it may be your tooth's best option, as well. For more information, schedule a consultation by calling the Dental Centre of Conroe in Conroe, TX, today at (936) 441-4600. We also proudly serve patients who live in Houston, The Woodlands, Willis, Montgomery, Magnolia, Huntsville, and all surrounding communities.