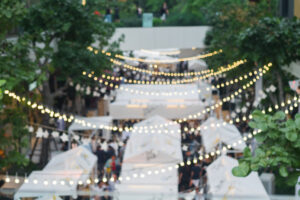 Every now and then, we like to take a break from our usual dentistry topics to take a look at fun events happening in our community. In today's blog, your Conroe, TX, dentist is looking at a fun shopping festival, and a fun family event too. We also want to remind you about scheduling your next checkup and cleaning visit!
Big Top Shopping Festival
The Big Top Shopping Festival will be taking place in Downtown Conroe this weekend! The event is located at Heritage Place Park on 500 Metcalf Street. Admission is fere and this is open to families and everyone of all ages, strollers and wagons are welcome. There will be over 300 exhibitors present. Parking is available at 33 Simonton Street for free. There will be shopping from tons of local vendors, and many traveling from out of state too. There is also live music, games, fun for kids, and plenty of food trucks with amazing food and drinks.
Sunday Fun Day
Don't forget about Sunday Family Fun Day this Sunday at J&W's Place from 3pm until 7pm. This is open to kids and adults, so your entire family can enjoy a great time. This will be a Reverse Brunch, with tons of fun games and activities, like karaoke, sip and paint, a TikTok station, music bingo, a spacewalk, and fun treats like Kiddie Kocktails, snow cones, and ice cream. Entry and parking are free too. This is a great way to celebrate the end of a week, and unwind before Monday arrives.
Schedule a Visit Soon!
When was the last time you and your family arrived for a checkup and cleaning? These preventive visits may seem minor, but they're in fact crucial for keeping smiles healthy and strong, as we can diagnose and treat concerns before they grow severe enough to cause discomfort or threaten smile stability. Checkups and cleanings benefit kids and adults alike, and we're ready to see you. We also have a comprehensive array of treatment options to address any concerns we discover, so we can offer lifelike restorations and treatments to ensure a healthy, whole, and beautiful smile for years to come.
If you have any questions about our treatment options, or if you're ready to schedule a visit for you and your children, then contact our team today to get started. Let's work together to ensure your family maintains their best possible smiles!
Does Your Family Need a Dental Exam?
We're ready to help you and your family enjoy optimal oral health, and that starts with a simple checkup and cleaning visit with our team. To learn more about keeping smiles healthy and whole using preventive dental care, then contact The Dental Centre of Conroe in Conroe, TX by calling 936-441-4600 today.