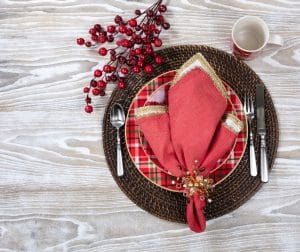 First and foremost, allow us to remind you that we offer emergency dental care for those moments when your smile needs attention and it needs it immediately. Now that we've gotten that out of the way, let's talk about some of the ways you can do your best to avoid the types of accidents that will land you in our dental chair for urgent care this year! We speak, of course, specifically about protecting your oral health during holiday dinners.
Avoid Hard, Harder, And Hardest
Think about the foods that could potentially crack or chip your tooth. Now, put those on your list of foods that you should most definitely avoid this year (or eat with extreme caution). What might this include? Well, it might include holiday nuts. It could include candy canes. Perhaps it might even include very tough rolls or breads. Be careful and you'll avoid requiring emergency dental care.
Don't Wait Too Long
If you're planning on waiting until next year to address problems that developed this year with your oral health, you're playing with fire! Between now and the New Year, you've got a lot of parties to attend and some serious fun to experience. The quickest way to avoid ruining all of that enjoyment is to ignore the fact that you need restorative care. Rather than making it through the winter season, you will most likely end up faced with a need for emergency dental care. Need a filling, crown, or other care? Schedule it as soon as you can.
Contact Us For Emergency Smile Care When You Need It
Remember that we are here to help with your dental emergency! Call us when in need. Come in for a visit in Conroe, TX by scheduling a visit with the Dental Centre of Conroe by calling (936) 441-4600. We serve patients from Conroe, Houston, The Woodlands, Willis, Montgomery, Magnolia, Huntsville, and the neighboring communities.