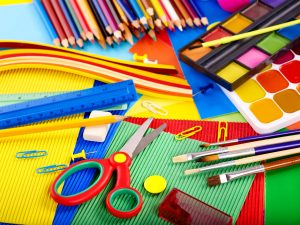 COVID-19 has drastically affected everyone across the country, including here in Texas. This weekend, you have the opportunity to help students and teachers from the Houston area as they begin the school year shortly. Saturday is the First Brook Cedron Missionary Baptist Church Summer Extravaganza and School Supply/COVID Relief Drive. That's a mouthful, but it's also a great cause. The church has help organized school supply drives in the past, and this year, they're including supplies for COVID-19 relief as well.
What
The FBC school supply and COVID-19 relief drive is designed to serve the Acres Homes community as members of this community recover from the virus while gearing up for another school year. You are welcome to donate online or on-site. You can also pick up a box of supplies if you are in need. There will be a live DJ on hand from 1-3, as well as an amazing cajun food truck serving to-go orders. The organizers have noted that this is not a congregating event, and you're asked to wear a mask and maintain social distancing while present.
Who
This is an all-ages event to benefit the community. You're encouraged to walk up or drive up to attend.
Where
This event is taking place outside at the First Brook Cedron Missionary Baptist Church 1713 Dewalt Street Houston, TX 77088.
When
The school supply and COVID-19 relief drive will take place this Saturday, August 1st, from 12 to 5 PM. The food truck will be on-site throughout the event, and the DJ will be present from 1 to 3 PM.
Cost
This event is absolutely free to attend, as it's geared toward aiding the community. If you're able to make a contribution, it will absolutely help our area families as they gear up for the latest challenge created by this pandemic. You can make contributions in-person or online.
Choose The Dental Centre of Conroe for Treatment
If your children need dental appointments as the school year gets started, choose the Dental Centre of Conroe. Our office staff provide gentle treatment in a sanitary and relaxed environment. We're taking extra cleaning precautions at this time to ensure that all of our patients are safe during their visits. If you notice any symptoms on the day of your visit, we kindly ask that you reschedule. To make an appointment, contact The Dental Centre of Conroe in Conroe, TX at 936-441-4600.