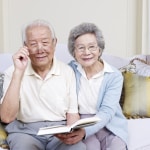 Dentures are common with the elderly as oral hygiene becomes more difficult, and the years take their toll on teeth. If someone in their twilight years has lived without teeth for a long time, their jawbone density may not allow for dental implants. They may not have the budget on a fixed income. Or perhaps health problems and advanced age make surgery out of the question from a safety perspective. In these cases, dentures are a great way to allow form and function when all teeth are missing. If someone sleeps in their dentures, they may feel like it's no big deal. However, a recent research study from Nihon University School of Dentistry, Japan has discovered that among other hazards of wearing dentures around the clock, pneumonia risks are heightened in the elderly.
Japanese Denture Study
Toshimitsu Iinuma led a team of Japanese researchers to conduct research on a group of people over the age of 85. The study was published by the International and American Associations for Dental Research (IADR/AADR in the OnlineFirst portion of the Journal of Dental Research (JDR). Titled "Denture Wearing During Sleep Doubles the Risk of Pneumonia in Very Elderly," the group of senior citizens who were studied was large. A total of 296 women and 228 men were questioned on oral hygiene habits, oral health, and overall health. Blood panels were run and the participants were followed over a three year period.
Denture Danger?
Out of the group, 48 study volunteers were confirmed to have contracted pneumonia. Statistics showed that wearing dentures at night was a common factor amongst these people. Overnight denture wearing causes difficulty swallowing during sleep. Furthermore, people who did not take their dentures out and clean them overnight had more tongue and denture plaque. Because plaque is bacteria based, this means that not only is pneumonia a higher risk for overnight denture wearers, but other overall health problems, as well. Oral bacteria has been implicated in dementia, Alzheimer's, strokes, and heart disease, so sleeping with dentures puts patients at higher risk for a wide variety of life-altering health conditions beyond pneuomonia.
Schedule a Consultation Today
At the Dental Centre of Conroe, we believe in providing the latest amenities and advanced technology to ensure every patient enjoys a comfortable experience. Whether you require cosmetic dentistry for an improved smile or dental prosthetics to replace lost teeth, we can help you and your family achieve beautiful, healthy smiles that last a lifetime. To schedule an appointment, call (936) 441-4600. We proudly service residents of Conroe, Willis, Montgomery, The Woodlands, Huntsville, and surrounding communities in the greater Houston area.