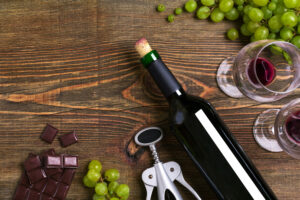 School is officially in session, as many children and students have returned back to class for the Fall. Just because the Summertime is coming to a close, however, that does not mean that the many fun-filled events taking place in the Conroe area are coming to a close too. In fact, there are several more amazing events taking place in the area this very weekend, so why not let loose and enjoy a taste for new things this weekend. In today's community blog, your Conroe, TX dentist highlights a few tasty events occurring this weekend, as well as some live music to enjoy in the process.
Live Music at the Table at Madeley
We have said it before and we will say it again: music is at the heart of many events in Texas. Indeed, we have a deep-felt passion for the musical arts, and supporting local businesses while supporting local artists is a must as a Conroe citizen.
It goes without saying that most individuals could benefit from exposure to a new sound, and the Table at Madeley concurs. This Friday, August 5, 2022, from 7:30 p.m. to 9:00 p.m., The Table at Madeley will be hosting Jody Booth live. He is a Texas-born artist dedicated to real Country Music, and he will be hosting his pre-43 birthday bash right in the heart of Texas. Tickets are available for $10, and you do not want to miss this one!
If Friday is no good, don't sweat it! This Saturday, August 6, 2022, from 7:30 p.m. to 9:00 p.m., the Table at Madeley will host local singer and songwriter Brooke Franklin. To learn more about either event, check out the event page here.
Moco Food Hall Grand Opening
If there is one thing that Texas enjoys more than music, it would have to be the local good eats! Indeed, nothing is better than a place with new eats, and this next event does not fall short. This Saturday, August 6, 2022, from 11:00 a.m. to 9:00 p.m., Moco Food Hall will have its grand opening at 109 Metcalf Street. They feature local cuisines, coffee, and bar drinks in downtown Conroe. Check out the event page for more information, and we hope to see you there.
Wine and Chocolate Pairing
Finally, take a little time for yourself this weekend with a relaxing wine and chocolate pairing. Indeed, Golden Oak Micro Cellar will be hosting a guided wine tasting and pairing event that will feature an assortment of different chocolates and wine styles. Check out the event page here to learn more.
Learn More Today
While supporting your local businesses in the Conroe area, your dentist encourages you to be smile-conscious. Contact The Dental Centre of Conroe in Conroe, TX by calling 936-441-4600 to learn more and schedule your next office visit today.