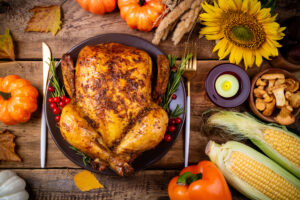 It is that time of the week again as your Conroe, TX team takes a look at some fun-filled events happening in the area this weekend, as well as encourages you to participate! The holidays are upon us, and with Thanksgiving around the corner, there are tons of turkey-themed events, pop-ups, and more that you may want to consider checking out this year. In today's blog, your Conroe, TX dentist shares some Thanksgiving-themed events happening around you, and encourages you and your family to gobble up the fun!
Junior League of the Woodlands Holiday Market
If you are looking to start your holiday shopping early, all while supporting local small businesses in your community, then you are in luck. This Saturday, November 19, and Sunday, November 20, 2021, from 9 a.m. to 6 p.m., The Junior League of the Woodlands will host their 17th annual Holiday Market.
This event features a variety of items and vendors, from flower arrangements to holiday ornaments, personalized gifts, and everything else in-between! The Market will take place at 1601 Lake Robbins Drive in The Woodlands, TX, and tickets can be purchased for $15 here on the event page.
Big Top Vintage Market
This Saturday, November 20 and Sunday, November 21, 2021, from 9 a.m. to 5 p.m., Big Top Shopping Festival is hosting its Vintage Market at Heritage Place. Located at 500 Metcalf Street, this event features a wide selection of exhibitors that will bring a variety of boutique clothing, shoes, home décor, accessories, furniture, and food! Come hungry, because this event also features gourmet food, dips, sauces, and more, offering all of its guests breakfast, lunch, and dinner.
This event touts something for everyone and a little bit of everything. Further, it features 50 percent handmade items and 50 percent manufactured products with 100 percent of exhibitors being small business owners from Texas and surrounding states.
General admission is free, and items begin at $5. There will be free garage parking at 333 Simonton Street, and more information about this event can be found here on the event page. Enjoy the holidays and support local businesses by attending!
Turkey Trot
The Thanksgiving Holiday isn't quite complete without participating in the annual 5k Turkey Trot Fun Run. This event will take place this Sunday, November 20, 2021 at 9 a.m., and tickets are currently available for $25 online here or at the door. Registration is open at 8 a.m., and the run begins promptly at 9 a.m. Further, the trot will take place at Carl Barton Jr. Park, located at 2500-336 Loop in Conroe, TX. For more information about this event, you can visit the event website here.
Contact Our Office
Stay safe and enjoy a great meal with your loved ones this Thanksgiving Holiday. When you are ready to schedule your appointment, contact The Dental Centre of Conroe in Conroe, TX by calling 936-441-4600.