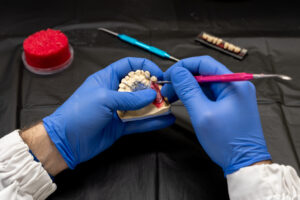 In our most recent blog, our team took a look at the many roles and functions dental implants fulfill when it comes to filling noticeable gaps in your smile. Indeed, nothing can seem more troubling than a noticeable gap in your smile, but experience a wide spread in which several structures are missing is much worse. Not only can you expect noticeable issues, but functional and structural concerns will develop and accompany you further unless necessary help is sought. In today's blog, your Conroe, TX dentist explores the many benefits of dental bridge restorations, and how they can be used in conjunction with implants to further enhance your functional capabilities.
A Need to Replace Missing Teeth
It goes without saying that the last thing a person wants to experience is the loss of one or more of their permanent teeth. After all, your pearly whites are what cosmetically communicate your levels of confidence and happiness, and functionally, help you survive by tearing apart food to more digestible pieces. That being said, continuing through life without the help of these structures can become much more of a chore and a complication than it has to be.
Indeed, each tooth consists of the crown and the root. The crown is the noticeable portion that aids in biting and chewing, and the root creates a secure connection with your jaw bone in order to help support the pressure of your bite. As you can imagine, with several structures spread throughout, each one serves a major role in absorbing a specific area or portion of the pressure.
In order to help restore these functional capabilities, a dental implant post is strategically placed to function as an artificial root. But what does this mean for various consecutive missing structures? To learn more, give our team a call today.
Spanning Several Structures
Though a single post can be used for each tooth, it is not ideal to overcrowd the present jaw structure with various implant posts. Additionally, this leads to a longer period for healing, and there are more efficient ways to ensure restored function. Fortunately, this is where the implant-retained dental bridge comes in to help, and our team is more than happy to help you get started. For any questions regarding your options, give our team a call today.
Implant-Retained Solutions
An implant-retained bridge restoration consists of two or more highly lifelike crown restorations that are bonded together and contain a single implant post at both ends of the bridge. In other words, the restoration is secured to your smile at either side, allowing for an ideal support for bite pressure and structural stability.
Schedule Your Appointment
Contact The Dental Centre of Conroe in Conroe, TX by calling 936-441-4600 to schedule your next appointment with our team and learn more about the need for optimal oral function.