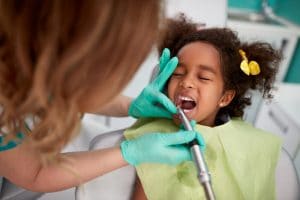 Did you know that National Children's Dental Health Month is in February each year? At the Dental Centre of Conroe, we appreciate the national yearly reminder that smiles of all sizes deserve quality dental care both at home and when visiting the dentist. In our office, our friendly staff creates a comfortable environment for every person that walks through our door, no matter their age or experience level with dentists, and it is our goal to make everyone a fan of going to the dentist. In today's blog, your Conroe, TX, family dentist will discuss some good habits that you can help your child start at home, as well as procedures offered in our office to keep little smiles healthy.
Healthy Smiles Start at Home
Kids learn well from watching those that they admire- especially their parents and guardians! So, it is important that you are leading by example when teaching good oral hygiene habits to your children from a young age. Seeing big siblings, parents, and grandparents brushing and flossing their teeth will help instill a sense of responsibility that will help them care for their teeth more diligently as they grow up. When they are young, of course, it can be helpful for guardians to brush a child's teeth for them, as this ensures getting into all of the nooks and crannies where food and plaque can hide. Getting a toothbrush with a timer, perhaps one that plays a two-minute song, can also help to set good habits.
A Comfy Office Experience
In our office, we always want you and your family to be comfortable. We offer comfy pillows and blankets along with snacks, drinks, and entertainment in the waiting rooms as well as the examination and treatment rooms to put patients of all ages at ease. If you are particularly worried about your child, perhaps due to negative past experiences or the portrayal of dentists in the media, feel free to call our office for more suggestions on how to prepare your child for their checkup or to let us know if you have any specific requests to make your little one more comfortable.
What Happens at a Checkup
At a child's checkup, our friendly staff will examine their teeth to make sure they are not experiencing any tooth decay, and to check for spots that could be susceptible to cavities, such as deep grooves on the biting surfaces of their molars. Then, their teeth will be professionally cleaned to ensure the removal of plaque (which can be hard to remove at home, especially with limited motor skills) and the prevention of cavities. Our team aims to make this experience as easy and fun as possible for everyone involved, and to keep your child smiling healthily.
Celebrate This Month With a Smile
Good oral health starts at home, but it continues in our office. Oral hygiene is important no matter your age, so if you or your child are due for a checkup and cleaning, contact the Dental Centre of Conroe by calling (936) 441-4600. We serve patients from Conroe, TX, and the neighboring communities.