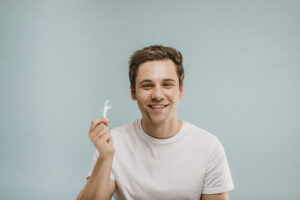 By now you are likely aware that taking care of your smile is a lifelong endeavor and one that should be considered on a multimodal as opposed to a linear manner. Indeed, your oral health is affected by virtually everything contained within the oral cavity, and as such, your level of at-home preventive care should be reflective of that. But what exactly does this mean for your routine? In today's blog, your Conroe, TX dentist reflects on the importance of flossing between meals, as well as how it impacts your gum or periodontal health.
Fending Off Infections
It goes without saying that your smile is one of your greatest assets, and the unfortunate truth is that oral bacteria and infection are consistently attempting to take it down. In other words, oral health concerns never truly cease berating your grin, and when you fall short in your preventive dental routine, they seize that opportunity to cause significant damage and harm.
Indeed, tooth decay may be one of the most common oral health concerns out there, but that certain does not mean it is the only one that you should keep on your radar. As a matter of fact, gum disease and infection are also common, affecting millions of Americans every single year.
You see, your health is affected by each of the components contained in your oral cavity. This includes not only your teeth, but your roots, gums, tongue, cheeks, and even your throat as well. As such, your at-home routine should include components that address these areas, and this is where flossing comes in to help. For more information about this process, reach out to our team today.
Removing Wedged Food Particles
Flossing is the practice of utilizing a special dental string to remove particles that may have been wedged between structures. Everyone at one point or another has gotten food stuck between teeth, and while they may be able to become unstuck on their own at times, more often than not, they require additional help. This is where flossing after meals comes into play. To learn more about this process and the method behind flossing, reach out to a member of our office today.
Keeping Your Gums and Teeth Healthy
When food and other particles become stuck, what happens is that they attract oral bacteria to the site to feed off of the particles. Here, these microorganisms will target your sensitive tissues and even work their way beneath the surface of your gums, leading to major periodontal concerns such as gums separating from structures, alarmingly loose teeth, and even structural loss.
Learn More Today
Contact The Dental Centre of Conroe in Conroe, TX by calling 936-441-4600 to learn more about the need for a consistent flossing regimen, as well as what additional treatment options our team offers to help.