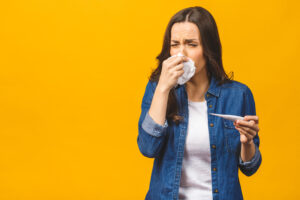 Caring for your smile is a consistent process that will follow you for the rest of your life. After all, the oral bacteria, germs, and other microorganisms that plaque your smile daily do not stop over time, and as such, you must take strides to provide additional care. In times of sickness, however, this process can become complicated in more ways than one, and it is important to recognize what you can do to best prioritize your oral health. In today's blog, your Conroe, TX dentist discusses oral hygiene musts that you should know when dealing with a sickness, and how our team can help.
Swishing and Spitting
It goes without saying that when it comes to falling ill, nobody is thrilled to be affected. Not only does it impact your productivity and daily life – missing work or school, unable to attend social gatherings or other obligations, etc. – but it causes you to feel tired, fatigued, and achy in the process. To top it all off, many symptoms of illness can negatively influence your oral health as well, and it is important to note what you should do in events such as these.
For example, one such symptom involves vomiting. While nobody enjoys throwing up, it is important to recognize how it influences your oral health as well. You see, the bile that comes up contains high amounts of stomach acid, a substance that actively erodes the protective layer of enamel on your teeth.
In order to prevent damage to your enamel and teeth, your dentist encourages you to swish and spit following a vomiting incident. After this, take care to brush your teeth using a toothpaste that contains fluoride, a naturally-occurring mineral that help strengthen enamel.
Avoid Sugary Cough Syrups
Another factor to consider when ill is the medications used to treat symptoms. For example, a cough is not uncommon when it comes to a variety of illnesses, and as such, cough medicine may be necessary to treatment. Keep in mind, however, that most cough syrups contain high amounts of sugar, and sugars contribute to cavities and feed oral bacteria.
In other words, taking the time to thoroughly vet your options and pursue a cough syrup that does not contain high amounts of sugar can be helpful to both your sickness and your overall oral health. Give us a call to learn more.
Stay Hydrated
Finally, the biggest piece of advice our team can provide when dealing with an illness is to stay hydrated. Indeed, many individuals may become dehydrated during a sickness, and this can lead to a number of consequences. Water contains fluoride that helps keep your teeth strong and provides necessary hydration to combat illness.
Schedule Your Next Appointment
Contact The Dental Centre of Conroe in Conroe, TX, by calling 936-441-4600 to schedule your next appointment with our team and learn how you can take strides to better care for your smile while ill.