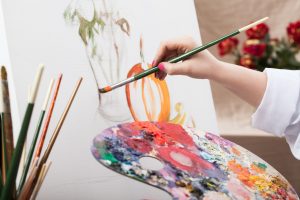 At the Dental Centre of Conroe, we recognize the importance of appearance when it comes to your smile and your decor. In our Conroe, TX, community, Painting With a Twist offers a unique DIY experience for the whole family.
What Is Painting With a Twist?
Painting With a Twist is an art studio that offers painting classes. You are taught by a local artist who will provide you with everything you need to create a masterpiece for your home, or to give as a gift. All you need to bring is yourself, maybe some friends, and some wine (that's the "twist")! Different classes are offered every night, and for many you can choose whether you'd like to paint on a traditional canvas or a wood plank board, adding that trendy rustic feel to your work. On Saturdays, Painting With a Twist in Conroe offers all ages classes with a unique experience. While no alcohol is allowed at these "Pop In and Paint" classes, you are able to choose any painting from their entire catalog, as well as any of their available canvas, wood plank, and shiplap surfaces, creating a totally personalized work of art.
Other Details
The Conroe, TX, Painting With a Twist is located at 1402 North Loop 336 W, and open seven days a week.
Pop In and Paint classes are offered for ages six and up every Saturday from 12 PM to 4 PM. You can come by yourself or bring a group, and you can register online through their website to ensure a spot. Each painting takes at least two hours to complete, so it is strongly suggested that you arrive no later than 2 PM to make sure that you have enough time to complete your masterpiece and take home a unique piece do-it-yourself decor for your home. All levels of experience are welcome, as the artists on staff are ready to help everyone feel like a master artist.
Need More Info?
At the Pop In and Paint sessions, you can pick out your painting from their catalog or just pick something off of the wall! If you'd like to come prepared, you can see examples of available paintings as well as the paintings currently being offered in classes on the Painting With a Twist Conroe website or call (936) 242-0047 to learn more.
Want Your Smile to Be a Masterpiece, Too?
Your smile should be something that you can be proud of. If you are having any issues with your teeth, wanting a new smile for the new year, or if you're due for a checkup, schedule a visit with the Dental Centre of Conroe by calling (936) 441-4600. We serve patients from Conroe, TX, and the neighboring communities.