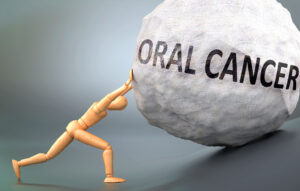 Though you may be taking care of your smile by brushing your teeth daily, remember that a thorough preventive routine consists of much more than just tooth care. Indeed, your smile faces a variety of concerns on the daily, and as such, requires an ample amount of care to help fend these off and remain healthy. Though tooth decay and infection are among the most common issues to worry about, they are far from the only ones. In today's blog, your Conroe, TX dentist explains why we perform oral cancer screenings during your preventive visit, and how this process is necessary for a lifelong grin.
A Necessary Part of Your Checkup
It goes without saying that dental prevention is our primary line of defense when it comes to taking care of our smiles. After all, your only natural defense is the protective layer of enamel that surrounds your teeth, but even that is limited in terms of total protection within the oral cavity.
Indeed, one step in your preventive routine that is important to maintain involves attending your routine checkup at least once every six months. Not only does this provide ample time to ensure your smile is healthy and taken care of, but it allows our team to ensure any minor concerns that have developed do not turn into major ones.
During your preventive visit, we take care to check for any signs of infection, damage, trauma, and more, as well as provide thorough cleaning to remove pesky deposits of bacteria-laden plaque and tartar. We also provide oral cancer screenings, and even though you may think this step is unnecessary, it actually helps in more ways than you might think. Contact our team today to learn more.
Who is at Risk?
Though you might be led to believe that you do not need to undergo an oral cancer screening, especially if you do not smoke, the truth of the matter is that anyone of any age is susceptible to the phenomenon. Indeed, it can be catalyzed by tobacco use, excessive alcohol consumption, extended exposure of the lips to the sun, and even from the Human Papillomavirus (HPV). To learn more about this process, reach out to our team today.
Steps to Keep in Mind
Though there is no way to completely prevent oral cancer from developing, reducing your alcohol consumption, lip exposure, and ceasing tobacco use decreases your chances drastically. Oral cancer is best treated sooner rather than later and is often characterized by rough red or white spots and inflammation.
Learn More Today
Taking care of your smile means considering the various concerns that could develop, and our team is here to help you. Contact The Dental Centre of Conroe in Conroe, TX by calling 936-441-4600 to learn more and schedule your next appointment with our team today.