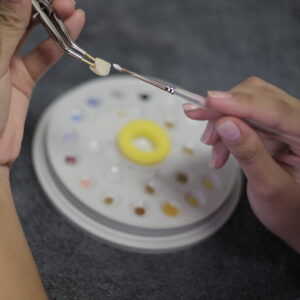 When you have cracked or broken a tooth, or have a serious case of tooth decay, then we could protect your smile's stability with a dental crown. With the CEREC system, we can actually design, fabricate, and place a dental crown in only one visit! In today's blog, your Conroe, TX, dentist talks about same-day dental crowns.
The Reasons Your Tooth Needs a Restoration
When does a tooth need a dental crown placed? The restoration covers the entire visible portion of your tooth, and can address an array of restorative concerns with a cosmetic touch. We can place restorations to repair cracked, chipped, or broken teeth. They can add length to worn down teeth and also reshape malformed ones too. Placement could improve bite balance and chewing function too! Our team could use them when a cavity is too severe for a filling, or to complete a root canal when a tooth is infected. Even tooth replacement is possible! For minor tooth loss, they can support a dental bridge or even restore a single tooth dental implant.
The CEREC Process
The CEREC system employs CAD/CAM technology, allowing us to create and place custom-made dental crowns in only one visit. To get started, we will administer a local anesthesia to keep you comfortable as we gently remove outer structure from the tooth. Next, we take digital images of the tooth from several angles, which we use to create a 3D impression. The information we gather is then uploaded into an onsite milling machine, which crafts the finished product from solid porcelain. The restoration is custom-made to ensure a comfortable fit and proper bite balance, as well as a natural appearance. We then check the fit and attach the finished product with a powerful bonding agent. Your restoration will look natural and provide a durable chewing surface for years to come!
Protecting Your Custom Restoration
To help them last longer and keep them brought, you need to maintain good oral hygiene. These same actions also help safeguard the entire smile against factors like tooth decay and gum disease. You should cut back on sugary foods and drinks so you avoid feeding the harmful bacteria that creates the plaque buildup that weakens protective enamel. Make time to brush and floss daily, and also see our team every six months for a checkup and cleaning too. If you have any questions about our custom CEREC crowns, then contact our team today.
Your Conroe, TX, Dentist Offers Restorative Dental Care
When possible, we want to repair your teeth and preserve your smile's stability and beauty. For more information on scheduling a visit for a custom dental restoration, then contact The Dental Centre of Conroe in Conroe, TX by calling 936-441-4600 today.