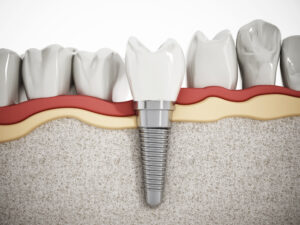 Losing one or more teeth is a troubling process for anyone, especially if a person is unaware about their options for treatment. Indeed, losing one or more structures is far more than a cosmetic concern, and believe it or not, failing to treat the now present gap can lead to more loss down the line. What's more? Even one missing tooth contributes to functional complications and an uneven bite, and it is for this reason that our team encourages you to come in and learn about your options. In today's blog, your Conroe, TX dentist takes a look at the functional benefits of dental implants and how our team can help your complete your smile once more.
Dealing with Tooth Loss
It goes without saying that, if given the option, nobody would opt to lose a natural tooth. Indeed, your structures are permanent, and once they are gone, they will not grow back. Although some individuals may feel just fine without a replacement tooth, it is still important to recognize the impact such a process would have on your day-to-day function.
You see, your smile serves a bigger purpose than just to look pretty and communicate your heightened level of self-confidence. As a matter of fact, your tooth roots create a secure connection with your jaw that serves as a symbiotic relationship. In other words, the jaw provides structural support that allows your teeth to absorb the pressure of your bite, while your roots help stimulate the bone and keep it strong.
When even so much as a single structure is missing, your bite must readjust in order to accommodate the missing structure. This leads to strain and difficulty in oral function. To learn more about this process, reach out to our team today.
Improved Oral Function
Although replacement options exist to address the gap in your grin on more of a cosmetic level, it is important to consider the need for proper function. Fortunately, this is where implant dentistry comes in to help.
You see, a dental implant is comprised of a biocompatible titanium post that serves to function as an artificial root. This allows the new crown restoration that is placed on top to absorb the pressure of your bite as normal. Contact our team to learn more today.
High-Quality Results
Not only do your dental implants help reestablish an even bite, but the crown restorations can be customized to your unique needs. Indeed, this often involves taking highly-precise measurements of the mouth and creating a custom crown restoration that not only adheres to the shape and texture of your other teeth, but can be shade-matched to the shade as well.
Schedule Your Visit
For more information about the importance of replacing lost teeth, contact The Dental Centre of Conroe in Conroe, TX by calling 936-441-4600 and schedule your next appointment with our team today.