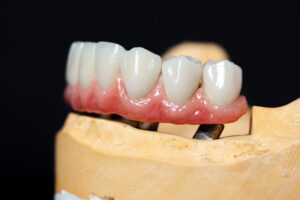 Restorative dentistry such as a dental crown, a composite filling, and even a root canal treatment can be used to not only salvage a damaged tooth, but restore your oral health overall. While it is always better to seek treatment sooner rather than later, the truth of the matter is that sometimes this feat is more difficult to accomplish than you might think. In fact, sometimes infection sets in and spreads rapidly, resulting in the loss of one or more teeth. In today's blog, your Conroe, TX dentist explores the tooth loss process and its effects, as well as how a dental bridge can be used to complete your smile once more.
The Pattern of Dental Loss
In an ideal world, all we would have to do to ensure a healthy smile for life is brush twice daily. Indeed, our smiles are relatively durable, so this should be more easily achieved than it is given credit for, right? Unfortunately, this is not the case. You see, oral health concerns are complex and plentiful in nature, and it is not always so simple to recognize an issue is occurring, especially if you are not attending your regularly-scheduled checkups and cleanings.
During your visit, your dentist takes a look at your smile and informs you of any points of concern that should be on your radar, as well as what your treatment options may be. You see, this visit is critical for your oral health, so failing to attend only harms you in the long run.
When oral infection sets in, it begins to work its way inside of a tooth in an effort to compromise its function and health. When it succeeds, one result is tooth loss. Unfortunately, this pattern will only continue without some form of dental intervention.
Issues with Oral Function
When you lose even one of your precious pearly whites, you can expect to experience issues with your oral function. For example, daily tasks such as biting and chewing will become painful and difficult to perform with gaps in your grin, and even enunciation will be hard. As a result, it is important to seek treatment so that you can perform these routine tasks as simply as possible once again. To learn more, contact our team today.
Benefits of Restorations
Though losing multiple teeth in a row is a troubling process, restorative dentistry has the answer. Indeed, your dentist will likely recommend the help of a dental bridge restoration, which consists of two or more artificial crowns that are bonded together and placed to span the length of your gap.
Schedule Your Appointment
To learn more about the benefits of restorative dental bridges, or to schedule your next appointment with our team, contact The Dental Centre of Conroe in Conroe, TX by calling 936-441-4600 today.