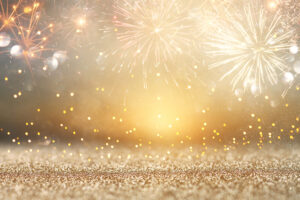 The end of the year has finally come to a close, as today marks the last day of 2021. Indeed, this year has brought a number of changes for the city of Conroe – and let's face it, the entire world – and many people are ready to leave the year behind them. As such, the city is celebrating with a few fun-filled and socially-distant events to help everyone ring in the New Year in a safe manner. In today's community blog post, your Conroe, TX dentist takes a look at some of the festive events taking place this Friday, December 31, 2021, in celebration of the New Year, and we encourage our patients to have a safe and fun evening.
New Year's Eve Block Party
What list would be complete without the annual New Year's Eve block party? Certainly not this one! Indeed, this event will take place in historic downtown Conroe near the Ferm Meadery. Streets will be closed to cars to allow the residents of Conroe a chance to enjoy themselves and have a fun-filled night on the town.
In addition to gathering with friends, family, and community members, this get-together will feature live music, beer, wine, cocktails, and of course, your favorite food trucks! Further, you and your close ones will get to watch the ball drop as midnight approaches on the big screen in front of Red Brick Tavern. To learn more about this event, you can visit the event page here.
New Year's Eve Extravaganza
In addition to the fun taking place in downtown historic Conroe, you do not want to miss out on the New Year's celebrations at 202 Main! Starting at 7:00 p.m., you can enjoy an array of gourmet eats, luxury desserts, and drink specials. The extravaganza is cocktail attire, and the city will host a live DJ and champagne toast to toast to the New Year. For more information, visit the event website located here.
New Year's Eve with Casual Heathens
Finally, no end-of-year event is complete without a pub drink and some live local music! If these are two items that interest you, then this next New year's celebration is just for you. This Friday, December 31, 2021 from 8:00 p.m. to midnight, The Corner Pub Bar and Deli will be hosting their New Year event with Casual Heathens. What's more? You can ring in the New Year with a special guest Garden Party, participate in the champagne toast, and enjoy the festive party favors that the Corner Pub has to offer! For more information about this event and purchasing tickets, visit the event page here.
Start the New Year Right
We encourage our patients to stay safe this New Year's, and when you are ready to kickstart your 2022 with a dental checkup, contact The Dental Centre of Conroe in Conroe, TX by calling 936-441-4600 to schedule your visit.