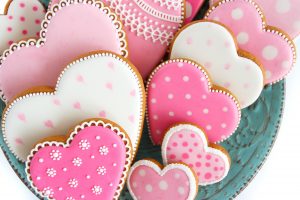 While a sweet tooth may not be an actual part of your dental anatomy, even dentists get one on occasion! After unleashing your artistic side and indulging your sweet tooth at this weekend's cookie decorating class, make sure you take good care of your teeth. At the Dental Centre of Conroe, we encourage you to attend a checkup and cleaning every six months, as recommended by the American Dental Association. This will ensure that we catch any issues early, and that your smile is kept clean  and healthy after your sweet indulgences this Valentine's Day.
When and Where Is the Cookie Decorating Class?
The class will be held this Saturday, February 1st, 2020, from 10:30 AM until 12:30 PM at Over the Top Cake Supplies, located at 453 Sawdust Road, Suite 102, Spring, TX 77380.
What Can I Expect at the Class?
At this class, you will learn how to expertly decorate cookies for Valentine's Day. You will need to register beforehand, and you must arrive a few minutes early so that your instructor has time to take attendance and start the class on time. While your results may vary based on skill level, each student will be able to decorate and take home six fun, tasty, Valentine's Day themed cookies.
Where Can I Go to Learn More?
Online registration for each of the classes offered at Over the Top Cake Supplies ends 48 hours prior to each class. So, to register for this class, you will need to contact Over the Top Cake Supplies by phone at (832) 458-0995. For more information about the class, to view the calendar of other available classes, or to find out more about Over the Top Cake Supplies, you can visit the Over the Top Cake Supplies website.
Keep Your Smile Healthy
After eating your delicious and beautiful cookies, don't forget about your oral hygiene! At the Dental Centre of Conroe, we want your smile to be something that you can be proud of. If you are having any issues with your teeth, wanting a new smile for the new year, or if you're due for a checkup, schedule a visit with the Dental Centre of Conroe by calling (936) 441-4600. We serve patients from Conroe, TX, and the neighboring communities.