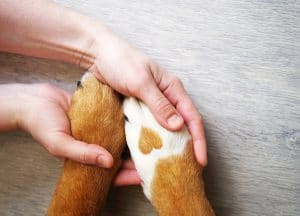 This Valentine's Day, as you are reminded to love yourself and others, consider extending that love to a four-legged friend! Whether your kids have been begging for a dog or cat, you have been considering getting another pet, or your house is already a menagerie of furry, scaly, and feathered friends, you'll want to stop by the Montgomery County Animal Shelter this weekend. In today's blog, your Conroe, TX, dentist will share a fun event and adoption special occurring at the shelter for Valentine's Day, and encourage you to share your love with a shelter pet.
Where Is the Animal Shelter?
The Montgomery County Animal Shelter is located right here in Conroe, TX, at 8535 Hwy 242. The shelter's regular hours are 11:30 AM until 5 PM Tuesday through Sunday (closed on Mondays) and they house both dogs and cats.
What's Going On This Weekend?
This Friday, February, 14th, 2020 (Valentine's Day), the Montgomery County Animal Shelter is hosting a special Valentine's Day Night Reading Event from 6:30 PM until 8:30 PM. At this event, you and your family can read books aloud to the shelter animals, providing them with some much-needed bonding time and attention and providing you with the chance to do a good deed and possibly even find a new best friend!
How Do I Register?
Registration is required to read at this event, so you can reserve your spot by emailing foster.coordinator@mctx.org.
Anything Else Going On?
In addition to getting the opportunity to read to the animals this weekend, as a Valentine's Day special, all animals adopted this Friday, Saturday, and Sunday (the 14th, 15th, and 16th of February) will have an adoption fee of only $14! With such a low price on your newfound companions, it is a great time to give a loving pet a forever home.
Where Can I Find More Information?
To learn more about the shelter, donating, becoming a foster parent, adopting, or to view the adoptable animals currently residing at the shelter, you can visit the Montgomery County Animal Shelter website.
Don't "Fur"get Your Smile!
Making shelter dogs and cats happy this weekend is sure to make you smile. At the Dental Centre of Conroe, we want your smile to be something that you can be proud of, and your comfort is a high priority. If you are having any issues with your teeth, wishing for a new smile, or if you're due for a checkup, schedule a visit with the Dental Centre of Conroe by calling (936) 441-4600. We serve patients from Conroe, TX, and the neighboring communities.