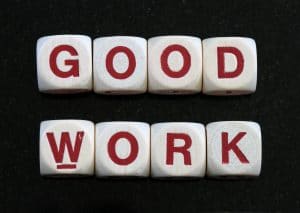 When you are spending any amount of time thinking about your smile care, you may find that you tend to immediately ask yourself if you've been doing anything wrong. You think about the fact that you need a checkup and you wonder if you will have a cavity. While it's very easy to end up looking for the mess-ups and concerns that can come with maintaining your smile, our Conroe, TX team reminds you that with just a quick flip of your perspective, you can also spend time focusing on what you've been doing right (which is probably quite a lot). Consider some reasons to give yourself a pat on the back to rejuvenate your dental care experience!
When You've Been Really Consistent
When you haven't been doing such a great job with your smile care, so you make some changes and become dedicated to your dental hygiene routine every day (and realize several weeks have passed), go ahead and give yourself a pat on the back! When you make it through a year and look back, realizing that you came in for your preventive dental care visits and any other care we suggested, you can feel very proud of the fact that you kept up with the needs of your oral health. Our team offers you a round of applause!
When You've Overcome A Hurdle
Perhaps your reason to give yourself a pat on the back in regard to your smile care is the fact that you overcame something that was keeping you from your best practices for your oral health. What did you overcome? Whether you have never enjoyed flossing but you finally decided to do it, you have serious dental anxiety but came in to see us and relied on the relief that sedation provides, or anything else, we say: Good job! Keep it up.
When You Were Kind To Yourself
Perhaps you have been upset about a discolored smile for some time and you finally decided to come in for cosmetic care. Maybe you felt guilty about tooth loss but instead of just continuing to feel sad, you came in and got started on a path toward tooth replacement! Give yourself a pat on the back if you have been good to yourself and your smile. It's important!
Feel Good About Your Dental Care By Scheduling It!
Remember that one of the key factors in feeling wonderful about your smile is taking care of it, which includes coming in for professional visits. Come in for a visit in Conroe, TX by scheduling a visit with the Dental Centre of Conroe by calling (936) 441-4600. We serve patients from Conroe, Houston, The Woodlands, Willis, Montgomery, Magnolia, Huntsville, and the neighboring communities.