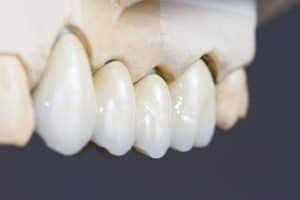 When we lose one or more teeth, this could mean the onset of misalignment and other complications. In order to restore your missing teeth and ensure you enjoy a beautiful smile, your Conroe, TX, dentist may suggest a dental bridge. Find out how we create and place this unique and custom dental prosthetic in today's blog.
Why Do We Lose Our Teeth?
What happens that causes our natural teeth to become lost? Well, if you sustain serious damage, this could mean the teeth need to be removed. The same goes for teeth with advanced infections that have not been treated, as this could lead to the spread of infection unless the tooth in question is removed. However, the most common cause is periodontitis, the advanced stage of gum disease. This stage of the disease actually attacks the tissues connecting the teeth and gums, leading to gaps in the smile.
Creating Your Prosthetic
You should talk to our team about tooth replacement, as missing teeth have been linked to greater likelihoods of difficulty eating and speaking, as well as misalignment, TMJ disorder, and bruxism (teeth grinding). For one to three lost teeth in a row, we may suggest placing a dental bridge. We start by removing outer structure from the teeth on either side of the gap in your smile. Next, we take detailed impressions and measurements, using the information to design and create the bridge.
The prosthetic will consist of your new teeth with crowns attached to each end. We place the crowns on the prepared teeth on either side of the gap in your smile. The bridge will be created from durable and lifelike materials, such as ceramic. Not only will they be able to absorb bite forces, but they will look natural as well!
Maintaining Your New Smile
To protect your new teeth and prevent further tooth loss, we suggest taking time to brush and floss your teeth daily, which helps prevent poor gum health and other factors that could lead to missing teeth. You should also see us every six months so we can monitor your smile for signs of trouble, and also remove all plaque and tartar from the teeth. With our routine care, we can help ensure your smile stays healthy, whole, and beautiful! If you have any questions about addressing missing teeth, then please contact our team today to learn more.
Don't Live With Missing Teeth
Gaps in your smile due to tooth loss could mean serious trouble for your smile's health and function. For more information on replacing missing teeth, schedule a consultation by calling the Dental Centre of Conroe in Conroe, TX, today at (936) 441-4600. We serve patients from Conroe and all neighboring communities.