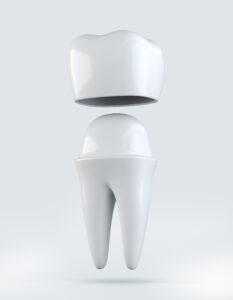 Your smile endures a significant amount of wear and tear over the years, and without consistent smile care, you could expect to endure infection, disease, and even tooth loss down the line. While dental prevention is considered the name of the game when it comes to keeping your structures happy and healthy, we would be at a loss without the help of restorative treatment. In today's blog, your Conroe, TX dentist explains why restorative treatment is so essential to maintaining a healthy grin, and how dental crowns can protect your teeth in more ways than one.
Restoring Your Bite
It goes without saying that dental prevention is the foundation of a healthy smile. With so many forms of infection, disease, bacteria, and germs plaguing your smile daily, it only makes sense that you combat these treats in the best way you can. Indeed, while enamel may fend off some of these issues on its own, bear in mind that it is anything but indestructible, and once this protection is gone, it is gone for good.
In order to keep your protective layer of enamel strong, your dentist encourages you to practice an at-home preventive routine. This often consists of brushing at least twice a day, flossing after meals, and using mouthwash to reach difficult areas that may have been missed by brushing.
Keep in mind, however, that infection can set in the second you fall short in any one of these areas, and sometimes a concern can progress before you even notice something is amiss. In cases such as these, restorative dental treatment makes it possible to mitigate damage and restore your smile back to health. For more information about this process, contact our team today.
Protecting Neighboring Teeth
Restorative dentistry is any treatment aimed at mitigating damage or infection and restoring your oral structures back to health. While there are a few different options you can pursue depending on your needs, no treatment is more versatile than that of a dental crown.
Indeed, a dental crown consists of a cap that is placed over a tooth. It can be used to contain an infection and protect your neighboring teeth as well as prevent infection from entering as the structure is healing. Give our team a call today to learn more.
Discreet Benefits
In addition to restoring your bite and tooth, a dental crown can be constructed using lifelike material that mimics the natural appearance of your teeth. What's more? We can even shade-match the cap to the hue of your smile, providing a near seamless finish.
Learn More Today
To learn more about the functional benefits of a dental crown, contact The Dental Centre of Conroe in Conroe, TX by calling 936-441-4600 and schedule your next appointment with our team today.