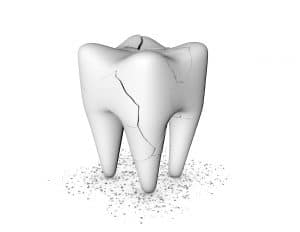 When you suffer a dental emergency, such as a broken tooth, especially at a busy or stressful time in your life, you may be concerned about the time it will take to fix the tooth. However, you should never put off emergency dental care and, at the Dental Centre of Conroe, we are always ready, able, and available to take care of you when a dental disaster strikes. In today's blog, your Conroe, TX, dentist will share the ways in which we can restore your broken tooth and why you should never wait to call us when your teeth suffer physical trauma.
First Steps
When you break a tooth, the first thing you should do is make sure that you are okay. If the break is in conjunction with other injuries from a fall or other accident that affects more of your body, it is of course a good idea to make sure that you take care of more pressing matters such as broken bones or possible concussions first. If your broken tooth is the only issue you are experiencing, however, you should locate the part or parts of your tooth that have broken off and keep them stored in a container in which they can be submerged in either milk or salt water. It is important to not remove any tissues that may be attached to the tooth pieces, as these could prove important if we are able to reattach the pieces. From there, attempt to control or stop any bleeding using gauze and applying light pressure. If you are in severe pain, try using an ice pack on the side of your face to numb it. Then, give us a call.
In Our Office
We know that times of physical trauma can be jarring, so, when you call us, the first thing we will do after scheduling your emergency appointment will be to remind you of the steps written in the above paragraph, as we want you to be able to manage your situation while waiting to come for your appointment. Our staff will schedule your appointment as soon as possible, allowing you to come in on the same day as your accident. When you are here, we can get straight to work on restoring your tooth. We may be able to use the pieces that you saved for us, or we may restore your tooth by using a same-day dental crown. If your tooth broke as a result of a cavity or infection, we may need to consider a filling before the crown, or even extraction. Of course, if you wait to come in after breaking your tooth, the exposed inner tooth tissue will have a high likelihood of decay and infection, which could lead to much more pain and the necessity of extraction in the future. We are equipped to handle your emergency in a single visit, so, no matter how busy you may be, you should always call the Dental Centre of Conroe when experiencing a dental emergency.
Take a Chance On Your Health- Call Us!
If you break a tooth or experience any other kind of dental emergency, we are here for you. Dr. Richards is committed to helping you bounce back after dental issues arise, and uses innovative technology to make that process even quicker. If you think you may be experiencing a dental emergency, schedule a visit with the Dental Centre of Conroe by calling (936) 441-4600. We serve patients from Conroe, TX, and the neighboring communities.