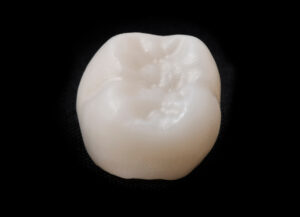 It goes without saying that taking care of your smile is a lifelong process, and common concerns such as oral bacteria, germs, and more can significantly complicate the process if you leave them untreated. Indeed, it can be difficult to provide such constant care to your smile at times, and it is during these instances of falling short in prevention that microorganisms make their appearance. In today's blog, your Conroe, TX dentist discusses the many functions of crown restorations, and how restorative care mitigates infection.
Protecting Neighboring Structures
Whether you are aware of it or not, the components of your oral cavity work together as a system to help you accomplish routine tasks. For example, your teeth play an integral role in biting, chewing, and otherwise tearing apart food items to make them more easily digestible. But this is not the complete story! You see, your teeth are able to withstand the pressure of your bite due to the secure connection your roots have with your jawbone.
Conversely, your jaw is able to remain strong and healthy, as the tooth root helps stimulate the area. Finally, your gums and periodontal tissues provide extra cushion and protection from infection and other concerns.
All of this to say, your smile's health is highly impressionable, and as such, you should take the strides necessary to provide additional protection and keep structures strong. Even still, however, infections and oral bacteria can wreak havoc without your knowledge and develop to an excessive level before you are aware of it. What's more? Infections can even persist after removing a compromised tooth, so taking necessary precautions to protect neighboring structures is a must. Give our team a call to learn about your options today.
Reinforcing Your Tooth Strength
When infection reaches a certain extent, a simple filling might no longer suffice. Instead, our team may recommend the use of a dental crown restoration. This consists of a hollow cap that is placed over your tooth. It is designed to fit snugly, as well as prevent outside forces from entering and causing even more damage.
In addition to protection from outside issues or preventing infection from spreading to neighboring structures, your dental crown can help reinforce your tooth's strength. By allowing your structure to remain protected while performing routine tasks, it can properly heal without the process having to impact your functional capabilities.
They Can be Discreet
A final note about tooth crowns is that they can be created with lifelike results in mind. Indeed, we can utilize shade-match technology and dental porcelain to ensure your custom crown restoration not only matches the shade of your smile, but fits in well with your neighboring structures so as to provide a discreet, lifelike finish.
Learn More Today
Contact The Dental Centre of Conroe in Conroe, TX by calling 936-441-4600 to schedule your next appointment with our team and learn how dental crown restorations can benefit you.