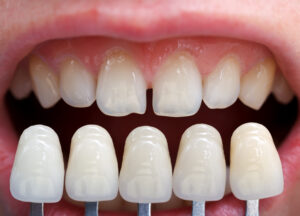 By now, you may be aware that a dull hue and stains are only a natural byproduct of age and time on your smile. While it is certainly not a favorable experience for most, it happens. Fortunately, cosmetic treatment is available to help. Indeed, there are a variety of treatment options for a variety of surface-level concerns, but what happens when your grin is plagued with various discrepancies that no one treatment can completely address? In today's blog, your Conroe, TX dentist discusses the many benefits that accompany porcelain veneers, and how our team will take great care to ensure custom treatment.
Addressing Various Concerns
The only thing more disheartening than experiencing a stain or other blemish after taking great lengths to care for your smile is experiencing many. Indeed, as you are aware, discoloration occurs naturally with age. It is important to note, however, that other discrepancies can occur due to a variety of other reasons. For example, your diet may contain a high number of factors that contain staining properties, including berries, coffee, and tea. Further, a physical accident or injury can cause chips and cracks to occur.
In addition to the concerns mentioned prior, you may also be at a disadvantage if you have natural gaps between teeth. You see, this occurs due to a combination of genetics and structural development. Regardless, however, the result is an uneven appearance. Although there exists treatment to address specific concerns, it may seem daunting to receive various forms of care for a few different blemishes. Fortunately, this is where porcelain veneers come in to save the day. For more information about this process and how our team can help, give us a call today.
Matching Your Smile's Shade
When it comes to addressing a variety of concerns, there is no treatment more versatile than porcelain veneers. Indeed, this process consists of placing ultra-thin shells of dental porcelain to the surfaces of your teeth. What's more? Treatment is virtually non-invasive, as it only requires a minimal amount of enamel sculpting to place.
In addition to addressing chips, cracks, stains, and more, veneers can be shade-matched to the natural hue of your grin so as to provide a virtually seamless finish. Contact our team today to learn more about this process and how we can help.
A More Youthful Appearance
Because veneers closely mimic the natural appearance of teeth, this cosmetic option offers a solution for a variety of stains and other blemishes that can help you obtain a more youthful and jubilant grin. We recognize the importance of your oral appearance, and our team is ready to help.
Learn More Today
Contact The Dental Centre of Conroe in Conroe, TX by calling 936-441-4600 to learn more about the ways porcelain veneers can help enhance your smile's appearance, and schedule your next appointment with our team today.