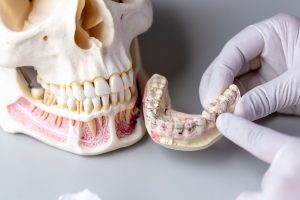 A straight smile is more than a cosmetic benefit: it can benefit your oral health, as well. Indeed, many individuals associate a straight, bright smile with an increased level of confidence, and minor concerns such as chips and cracks can produce major dissatisfaction with one's own appearance. While it is true that your smile's health should be a top priority, that does not mean that caring for your appearance should go unchecked. In today's blog, your Conroe, TX dentist discusses the benefits of cosmetic bonding and contouring, and how it can help reestablish your gorgeous grin.
If You Experience a Chip or Crack
For some, taking care of their smile is as easy as second nature. When a person takes care to brush twice a day, floss at least once every day, and attend routine checkups and cleanings, he or she is able to lay the foundation for achieving a healthy grin for life. Still, however, accidents can occur at any time to any person, and their severity can range drastically.
In the most extreme cases, a person may need to take a trip to the emergency room to have their situation addressed, whereas others may be required an emergency dental appointment to have their needs cared for. Another possibility is that the injury or accident only produced a surface-level chip or crack, in which case your oral health and function do not experience a threat. Still, seeking treatment may be necessary.
Indeed, just because surface-level concerns do not influence health or function does not mean they should be ignored entirely. Fortunately, this is where cosmetic dentistry may be able to help. To learn more, reach out to our team today.
Establishing Symmetry
A chip or crack, while mild in nature, has the potential to influence your grin in more ways than you may think. For instance, a chipped tooth can cause your entire smile to appear misaligned or crooked. You also run the risk of your situation getting worse by failing to seek treatment.
One of the more popular treatments for addressing a chip or crack involves dental bonding and contouring. This process involves applying a composite resin material to the affected area, then contouring or shaping it to closely mimic the natural shape and texture of your tooth.
When You Have Multiple Surface-Level Concerns
Bonding and contouring are also helpful when addressing multiple cracks or chips throughout your grin, as the material can be placed and shaped with ease. What's more? The composite resin can be shade-matched to your grin in order to provide a near-seamless finish.
Learn More Today
Contact The Dental Centre of Conroe in Conroe, TX by calling 936-441-4600 to learn more about the benefits of cosmetic dentistry, or to schedule your next appointment with our team today.