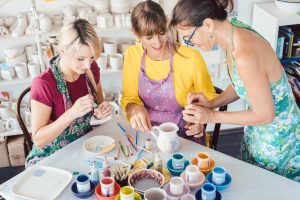 It is that time of the week again as work and school come to a close. Indeed, every Friday, we take care to provide a few fun-filled events taking place in the Conroe, TX area this weekend so that our patients can truly enjoy what our town has to offer. Taking care of yourself means more than just scheduling your dental visits (although we are very partial to this practice!), and as such, we aim to provide a well-rounded experience for all of our dedicated patients. Without further ado, your Conroe, TX dentist will discuss a few up-and-coming events taking place this weekend that you should take part in and enjoy.
Paint Your Pet at Frankenboltzzzz Brewing Co.
Nothing is better than dabbling into the arts while having a sip of high-quality ale, except for maybe painting a picture of your pet! This Saturday, September 11, 2021, Frankenboltzzzz Brewing Company is hosting a paint your pet night at the brewery. Located at 173 N FM1486 in Montgomery, TX, the crew at Frankenboltzzzz Brewing Co. invite you to come out to enjoy a glass of wine, beer, or mead while you let loose from the stressful week and channel your inner creative side.
The event will take place at the brewery from 4 p.m. to 6 p.m. this Saturday, and more information can be found by accessing the event page here. Have a relaxing weekend, try a new drink, and take home your very own painting of your pal.
PONCE
If you are looking to hear some music while having a cold one with your friends this weekend, then look no further than Southern Star Brewing Company. This Saturday, September 11, 2021, the Nashville rock band PONCE will be playing at Southern Star Brewing Co. located at 3525 N. Frazier St. in Conroe, TX 77303.
Music will begin promptly at 6 p.m., and the show will go on until 9 p.m. If you are a fan of ice-cold drinks and rock n roll, then this event is for you. Check out the event page here to learn more about it.
Pour & Score Putting League at Southern Star Brewing Co.
Who isn't a fan of a little competitive putting? This Wednesday, September 15, 2021, Southern Star Brewing Co. will be hosting their bi-weekly Pour and Score Putting League event, and anyone of age is welcome to join. This event occurs every other Wednesday from 5:30 to 8:30 p.m., and there is no fee to play. There will be drinks on tap, as well as side games to enjoy. Check out the event page to learn more.
Is it Time for a Cleaning?
We hope that you are living your best life and caring for yourself in between the hustle and bustle of everyday life. When you are ready to care for your smile and schedule your next cleaning, contact The Dental Centre of Conroe in Conroe, TX by calling 936-441-4600 to set up your visit.