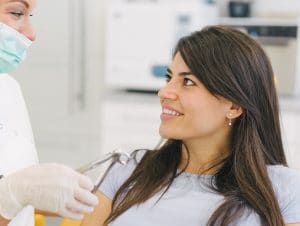 When you need restorative dental treatment to address a problem with your tooth, you might expect that the right custom restoration can save your tooth no matter what the problem is. However, despite the advanced nature of restorative dentistry today, there are still concerns that can't be effectively resolved by placing a tooth filling or dental crown over a tooth. Today, we look at the need for tooth extraction in some cases, and what the procedure can mean for your immediate and long-term oral health.
The need for it is important
One of the reasons the need for tooth extraction can often be a surprise is because it involves choosing to remove a tooth from your dental ridge. Typically, the goal of restorative dental treatment is to preserve as much of your natural tooth structure as possible. However, if the tooth doesn't have enough healthy structure remaining, or if its presence poses a threat to the rest of your oral health, then the overall goal of restoring your smile may require extracting the tooth. Because this is only recommended when the tooth can't be saved, it also means waiting to extract the tooth could make matters worse for the rest of your oral health.
Waiting could make things worse
While tooth extraction is only recommended for severe tooth concerns, there are multiple reasons that could lead to the need for it. For example, your tooth may lack sufficient structure to save because most of it has been eroded by extreme tooth decay. Or, it may have become severely damaged and unable to support a restoration, or the root may be fractured and broken within your jawbone structure. Whatever the reason, the damage that could result from allowing the condition to get worse could make more extensive treatment necessary to fully restore and preserve your smile.
Extracting the tooth might not be all
There's a very good reason why the goal of restoring your smile is typically to preserve your healthy, natural tooth structure. Even advanced restorations, such as bridges and dentures, can only do so much in replacing your lost teeth and restoring your smile and oral health. When you lose a tooth, especially the root that supported it, you can experience several other subsequent concerns with your oral health and bite function. To avoid this, we can recommend replacing your tooth as soon as possible after you've had it extracted.
Learn more about tooth extraction
If you need tooth extraction, it's important to understand why and how it can impact your overall oral health. To learn more, schedule a consultation by calling the Dental Centre of Conroe in Conroe, TX, today at (936) 441-4600. We serve patients from Conroe and all neighboring communities.