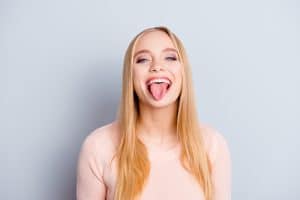 Yep, it's true. You are supposed to be caring for your tongue, along with the other tissues in your mouth, such as your teeth and gums. This might be a foreign concept to you or … it might be something you know about but that you just ignore either because you need more information or because you're not too fond of the feeling of your toothbrush's bristles being dragged across your tongue's surface. Trust our Conroe, TX team when we say that we understand and get excited: We have some simple yet very effective, easy-to-achieve tips for you in terms of keeping this part of your oral health safe!
Your Toothbrush And Toothpaste? Yes!
In your effort to protect your oral health and to avoid the need for restorative care, you brush and floss your smile at home. We remind you that during these dental hygiene sessions, you can easily include your tongue, so you're thoroughly cleaning your entire smile! This will only require your toothbrush and toothpaste. In addition to brush all of your tooth surfaces, take just a handful of extra seconds to start at the back of your tongue and to gently but thoroughly sweep bristles forward. Continue until you reach the tip of your tongue, using small strokes. It's that easy to clean your tongue's surface!
A Tongue Scraper? Perfectly Fine.
For those individuals dedicated to complete oral health protection but who cannot abide by the very strange feeling they get when they brush their tongues, we offer an alternative that's very effective! It's called a tongue scraper, it feels much better than it sounds, and you can pick one up from your local drugstore.
When Your Tongue Looks Different
When your tongue looks different, the first thing we remind you to do is schedule a dental checkup with our team, so we can take a look. We may find that you need treatment or to changes things at home. Or, we may find that everything is A-OK (but we will be able to explain what you're seeing to you, so you don't need to spend any more time stressing and wondering!). As for what might be going on, remember that your tongue frequently alerts you to issues. A scalloped tongue border might mean bruxism is affecting you. A coated tongue may mean you need a cleaning and that you've got too much bacteria in your mouth. For details specific to your oral health, see us soon!
Keep Your Tongue Clean
Set up your next dental visit with us soon, so you can come in and ask us all of the questions you want about your oral health! Remember that we will be more than happy to address tongue care questions with you'! Come in for a visit in Conroe, TX by scheduling a visit with the Dental Centre of Conroe by calling (936) 441-4600. We serve patients from Conroe and the neighboring communities.