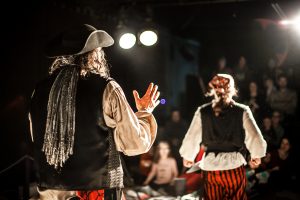 Believe it or not, the holidays are just around the corner and we are beginning to see the early stages of a decline in temperature. While it is not quite cold yet, the cool Fall breeze and the increased number of Halloween products on the shelves at your local grocery store are indicative of that cozy time of the year. As such, our team would like to dedicate today's community blog post to highlight a few fun-filled events happening in the area this weekend, and we hope you and your family will enjoy them. In today's blog, your Conroe, TX dentist takes a look at three events happening this weekend in Conroe, and we encourage our patients to take part in bringing in the Fall.
All in the Timing, Six One-Act Plays by David Ives
If you are a fan of fine arts, comedy, and live performance, then Sam Houston State University has just the event for you! This Friday, September 24, 2021, from 7:30 p.m. to 9:30 p.m., SHSU will be hosting their All in The Timing: Six One-Act Plays by David Ives. This production will consist of six one-act plays, including performances of Sure Thing, Words Words Words, The Universal Language, Philip Glass Buys a Loaf of Bread, The Philadelphia, and Variations on the Death of Trotsky. Information about each act can be found here on the event page, as well as tickets that are going for $12. If you so choose to purchase a ticket the day of, they will be available at the event for $15. The performances will take place in the Showcase Theatre located on campus at 1740 Bobby K. Marks Drive in Huntsville, TX.
Masters of Dance
Another event brought to you by SHSU, Masters of Dance will feature a collection of diverse dance works that have been choreographed and produced by the graduate student organization Masters of Dance. This event will take place on Friday, September 24, 2021, at 815 17th St., and the show will begin promptly at 8 p.m. Tickets are available for purchase online for $12, or $15 day-of at the event site. For more information about the event, check out the event page here.
Montgomery County Funky Junque Gypsy Market
This Saturday, September 25, 2021, at Lone Star Convention Center, the Montgomery County Holiday Extravaganza is hosting their Funky Junque Gypsy Market all day. Located at 9055 Airport Road in Conroe, TX, this event will feature a unique indoor gift market and 180 vendors selling items such as gourmet gifts, boutique women's and children's clothing, jewelry, home, and holiday décor, and more. Come on out and support local vendors, and find more information here on the event site.
Schedule a Visit
Before taking a family trip this holiday season, make sure to contact The Dental Centre of Conroe in Conroe, TX by calling 936-441-4600 to schedule your routine checkup today.