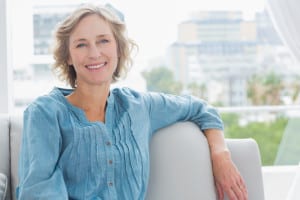 We often find that patients missing one or only a few teeth feel like they should be able to be tough and just deal with the problem. This is sometimes the result of worrying about finding a cost-effective solution, sometimes because patients simply are not aware that they have many options, and often because some people don't recognize that there are health drawbacks to avoiding tooth replacement. Fortunately, dental bridges provide patients missing one tooth or up to three teeth in a row a wonderful solution to enjoying a complete smile. Wondering if you should consider this restorative option? Consider the following:
About Bridges
A dental bridge is simple and effective. Think of it as a series of artificial teeth. On either end rests a dental crown, which we will permanently place over the anchor tooth that lies on either side of your gap. Within these two crowns rest pontics – or artificial teeth – that will complete your smile once placed.
Bridge Benefits
Dental bridges often offer a middle ground between dentures and dental implants. While dentures are removable and offer the most budget-friendly solution, dental implants fully replace your entire tooth from root to crown and require a sizable initial investment. Bridges are cost-effective and fixed, meaning we cement them in place. For patients looking for a permanent, long-term solution who are not ready for implants, this is often an effective choice. In addition, dental bridges may offer the following advantages:
A bridge can fill a gap in your mouth as a result of a single missing tooth or up to three teeth that rest side-by-side
Choosing a bridge will restore your ability to chew comfortably for improved nutrition and speaking
You will be able to feel confident and excited about your beautifully complete smile – we will color match the teeth replacements to match your remaining smile
Filling the space in your mouth is essential for optimal oral health – it will prevent your remaining teeth from shifting and will also prevent food and debris from becoming trapped in the open space
ABOUT YOUR CONROE GENERAL DENTIST:
The Dental Centre of Conroe, John M Richards DDS delivers distinctive cosmetic, restorative, and implant dentistry for residents of Conroe, Houston, The Woodlands, Willis, Huntsville, and the neighboring communities. For more information about our services, or to schedule an appointment, contact us by calling (936) 441-4600.