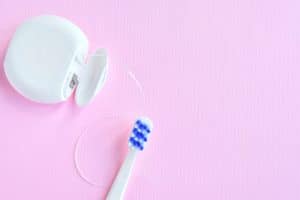 If we were to ask you to grade the way you feel about your dental hygiene at the moment, what would you say? Would you immediately give it an A or an A+? If your answer is no, then our Conroe, TX team reminds you that there is always room for improvement if things aren't going quite as well as they could. Even better? Making changes to enjoy more successful, more enjoyable dental care at home is something that's extremely easy to accomplish! So, if you feel like your brushing and flossing could use some sprucing up, don't be a stranger: Ask us for help (and get started with some helpful info!).
Are You Giving Yourself Enough Time?
Would you say that you're giving yourself enough time for your dental hygiene? If you are shrugging your shoulders or you aren't even sure how much "enough time" is, then it's time for a quick review with our team! Remember that in order to practice hygiene with good results, you need to spend two minutes brushing. You also need to floss thoroughly. So, enough time means that you're not rushing, you're timing your brushing sessions, and you're gently and thoroughly flossing your entire smile.
Are You Getting Your Questions Answered?
Do you find that nearly every day when you head into the bathroom for your dental hygiene, there's a question or two that is causing you some amount of emotional discomfort? If so, don't let such thoughts continue for too long! Instead, remember that when you set up a dental checkup with our friendly team, we will be very happy to offer you the educational details you need in order to feel fully confident in the care you practice at home. Need us to show you how to brush and floss? Just ask!
Are You Happy With Your Products?
If you're happy with your dental hygiene products, then this is an easy one. If you're not, it's just as easy! Remember that when you're not satisfied, it's actually beneficial to your smile for you to make a change! Try out something new, find flavors, textures, and more that work for you, not against you. It's worth it.
Are You Enjoying Success?
Is your dental hygiene allowing you to avoid damage and oral health problems? If the answer is no, come in soon, so we may offer advice!
Improve Dental Hygiene With Our Guidance
Don't let your daily dental hygiene get the best of you if you feel like things could be better. Talk with our team about the problems you're experiencing, during your next visit, so we may offer you essential guidance. Come in for a visit in Conroe, TX by scheduling a visit with the Dental Centre of Conroe by calling (936) 441-4600. We serve patients from Conroe and the neighboring communities.